FOR SALE! NIGERIAN MOVIE INDUSTRY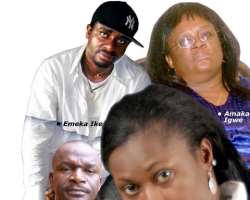 Buffeted from all corners by a plethora of problems, the Nigerian movie industry is hit by a dip in sale
In its close to 20 years existence, the Nigerian movie industry, popularly dubbed Nollywood, despite parading a swathe of production quality malfeasance, has remained unwavering in recording impressive sales figures across all genres. Over time, huge revenues from the Nollywood movies became so consistent, prompting the international media to rate Nollywood as the third biggest movie industry in the world, next to India's Bollywood and United States of America's Hollywood.
Some years ago, a visiting Western journalist clearly captured the situation when he wrote thus: "Nigeria has, perhaps, the most distinguished literary tradition in Africa." But it is clear that Nigeria's home video industry has no pretensions to high art. What it's all about is money. Nollywood movies were originally financed by importers of blank video tapes as a way of promoting sales of their products - and commerce remains king.
For the industry, the chicken has finally come home to roost. Nollywood has been hit by an unprecedented recession which has caused a significant dip in sales figure. In an industry where accurate sales and distribution statistics are a tall order, the Word of Mouth is the only reliable tool to gauge sales performance. Interestingly, the lamentations have come in torrents, as practitioners across board are unanimous in their view that Nollywood is headed for its longest depression. From producers, directors and marketers to operators of video clubs, the chorus is fast becoming a mantra. Nollywood is down! The dip in sales has ensured that some big-time actors earn less than 50 per cent of what they used to attract as artiste fees. While some have taken to other forms of entertainment like being stand-up comedians and comperes to remain afloat, others have found an alternative career in pursing some amorphous advocacy campaigns, or what is known as non-governmental organisation.
Folasade Ani, a video club operator in the Ketu area of Lagos and a member of the Video Club Owners Association of Nigeria, VCOAN, reeled out his woes in the business that had hitherto always taken him to the bank smiling. "When the going was good, we would hire out up to 40 films per weekend in each of our five shops within Ikosi and Alapere (within the Ketu axis) but now we don't give out more than five for a whole weekend," he said. Tobi Awoma, another VCOAN member in the FESTAC area of Lagos, narrated a similar experience: "Our business is dying due to the power problem. People don't come around to hire films anymore because it is useless paying for what you can't consume." VCOAN members may blame their misfortune on power outage, but for a handful of Nollywood actors, the downturn in sales volume of films is a direct consequence of the broadcast of Nollywood flicks on DSTV's Africa Magic channel which is available across the African continent. Proponents of this view argue that apart from reducing the market value of the films due to repeated broadcast, M-Net undervalues the flicks by paying what it terms $1000 acquisition right. They argue that no Nigerian film has sold up to 100,000 copies since the coming of Africa Magic.
Clarion Chukwura, a Nollywood actress with close to 30 years experience in the business insists that Africa Magic has done great harm to Nollywood. She argued that the slide began in the last five years due to the invasion of unprofessionalism and Africa Magic. "Tell me what movie was made with $1,000 dollars. Nollywood movie sales began to drop two years into showing of our movies by Africa Magic. A year into their fifth anniversary, English movie sales have crashed. Yoruba movies that they show only at weekends are the ones that sell now. Yoruba movies are selling far more than the English now. Sound Image in London would tell you that before it sells two English movies, he has sold 20 Yoruba movies," she informed.
The veteran movie practitioner also had low marks for the National Films and Video Censors Board, NFVCB, led by Emeka Mba who she accused of collaborating with Africa Magic. "At least, before Africa Magic, a Nigerian actor could tell you that he or she was earning N1 million or N800,000, but that is not true now. Why doesn't he solve the problem that makes an actor who was earning N500,000 to now earn N150,000 first?" Chukwura charged. Emeka Ike, another popular Nollywood face had raised his voice against the screening of the Nollywood content on the Africa Magic channel while insisting that actors must be compensated by the pay-TV channel before their works are broadcast. Loud as it may be, that view is far from being a consensus among movie practitioners. Ema Ayalogu, veteran actor and producer who was part of Living In Bondage, the famous Nollywood record-breaking flick, has a perspective which is 360 degrees apart from Chukwura and Ike's views.
To Ayalogu, you can not talk of a dip in 'sales volume' when there was never a sales volume, just like you cannot ask a teetotaller if he has stopped consuming alcohol, because he was never an alcoholic. "Apart from Living In Bondage, Igodo and, most recently, Jenifa, which other films have the marketers agreed sold beyond 30,000 copies?" Ayalogu quizzed.
On the broadcast of Nollywood flicks by Africa Magic and some other local stations, Ayalogu enthused: "If Africa Magic and the rest are guilty of anything, they are guilty of making Nollywood popular. Did the Nollywood films walk to the stable of these stations? It is wicked, invidious, insidious and outright mischief to blame these stations and Africa Magic for the self-inflicted misfortunes of Nollywood."
Aligning himself with Ayalogu's position, Madu Chikwendu, a former president of the Association of Movie Producers of Nigeria and current Secretary of the Pan-African Federation of Film Makers argued that there are a number of rights enshrined in a cinematic work which makes nonsense of the compensation demand by some actors. "I do not know if the actors have the right to demand direct compensation because the user of the work does not negotiate directly with them. The actors are just like employees, technically speaking. They are employed by the producers," Chikwendu argued.
To him, the Africa Magic channel opened up an avenue for the producers to recoup the money invested in the industry which operates without safety net for the average producer. "The producer carries an enormous risk of producing a film for which he pays the actors heavily without a guarantee of having a good return on investment," he said.
Also Segun Fayose, spokesman of Mutichoice Nigeria, said subscription managers of the DSTV bouquet have dismissed insinuation of unfair deal on the part of Africa Magic. While insisting that M-Net pays more than $1000 per movie to producers for their works aired on the pay-TV, he was quick to add that it was impossible for the channel to pay premium fee for a content which it has no exclusive rights to. "What you find on Africa Magic are not exclusive to the channel, they are everywhere on DVD and VCD. Africa Magic offers the producer the opportunity to maximise his investment on our continental platform. It is a win-win situation for Nollywood," he concluded.
Conversely, while movie practitioners in the south battle with a downturn induced by market forces, their colleagues in the north are grappling with a dip occasioned by government clampdown. Kannywood, the Kano variant of Nollywood, was riding high in popularity and sales figures. But all that changed after the celebrated December 2006 video sex scandal involving a top Hausa actress, Maryam Usman popularly known as Maryam Hiyana and her Lagos-based Bureau de Change operator boyfriend, Usman Bobo blew open.
The indecent footage of the two lovers was villainously celebrated in the city known for its uncompromised status as a sharia'ah-compliant state. Incensed by the scandal, the Motion Pictures Practitioners Association of Nigeria, MOPPAN, Kano chapter, placed a six-month ban on 23 of its members from acting following a blink of disapproval by the Kano State government.
Even at that, there were a series of perceived misconduct by a number of Kannywood actors and actresses which bordered on moral decadence, a situation which did not sit well with the Kano State Film and Video Censorship Board, a body set up by the state government to monitor and regulate activities of film-makers in the state in line with shari'ah principles.
Angered by what it described as a reckless breach of laid-down rules and regulations, the Kano Censorship Board, in August 2007, slammed a six-month blanket suspension on MOPPAN to enable it redirect itself. The ban engendered a barrage of litigation between MOPPAN and the Kano Censorship Board. As the legal gymnastics condemned the once booming Kannywood to a long lull, actors and producers resorted to black market production and distribution tactics. Though the crisis has finally been settled, Kannywood is still battling to find its feet sales-wise.