Desmond, Jim Iyke, Ramsey Nouah are my customer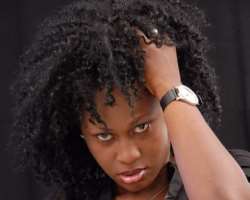 Uche Jombo... I have remained focussed
She is pretty and currently one of the hottest screen goddesses in Nollywood. Uche Jombo is her name and contrary to a pouplar opinion, she is not a snob. Rather, she's a combination of brain, beauty and talent.
An Abiriba, Abia state-born actress, Jombo has risen to the top of her career with a lot of thrilling movies to her credit. She got into Nollywood a decade ago, with role in the movie 'Ibinabo' and since then, she has featured in many other movies that have placed her amongst the names of A-list actresses.
An acclaimed local and international star Jombo has strived over the years to improve her craft, so needless to say the best is yet to come from hers.
Though, her roles in most movies have been misconstrued, the extrovert who loves dancing, believes that whatever role she plays, translates to the fact that she wants to realise the storyline of the movie, and may not represent the real Uche Jombo.
"When I am not acting, I try to separate the Uche on screen, and the Uche in real life. It helps me a lot because I cannot be doing make-believe all through my life",says Jombo
This is her story
Background.
I'm Uche Jombo, actress and script writer. I am from Abiriba in Abia State and I'm the third in a family of nine children. I have a degree in Statistics and a Post Graduate Diploma in Computer Science.
Trait of a spoiled child
Is that complimentary, or what?. Any way, I don't quite agree totally. But on the other hand, I can agree with you based on the fact that any role one is given to play, one is bound to give a little bit of oneself to that role. It might be by way of smile, the way one talks, and one's manner of approach. I don't think I have played any role that's totally myself. I don't think so.
When, and how did you get involved in Nollywood
I have actually been around for quite sometime now. I have sojourned in the movie world for more than ten years. It's quite a journey. And it's not as easy as it appears.
Acting is something that I love doing. My love for acting started when my parents made me join the church drama group known as 'Children of the Lord' for training. Their intention was not to make me an actress but to keep me busy particularly in the church because I was restless as a kid and a tomboy! The church is known as the United Church of Christ.
Every Sunday we ministered to the church through drama and quoting from the Holy Bible. This helped me to memorise lines. That was how I developed my love for acting. That I have come to this point and that, I didn't withdraw when everything looked a little bit disappointing is because acting is a job I enjoy doing. It's like you are doing what you enjoy doing best.
Aspiration
To continue to develop both in my writing skill and acting career. To develop more in everything that I am involved in, especially in Nollywood. It's the Bible that says "to whom much is given, much is expected."
Movies that shot me into limelight
It was a combination of different movies. I am not one of those actresses that was made by one movie alone. I think, between "Ibinabo" and "Girls Hostel" I became a household name in Nigeria. I still have little, little drops of movies here and there. Probably, the movie that redirected my career is "Games Men Play."
Other movies include, 'Feel my Pain", 'Girls in the Hood', ''Price of Fame' and many other movies I cannot remember their titles now. It was after the role that I played in that movie that really made people to start seeing me as a serious actress.
Movie that challenged my craft
I think as a practising actress, my best is yet to come. I want to believe that my most challenging movie is still yet to come. I want that movie that will totally drill me, and make me believe that I've had a tough movie.
Embarrassing moments
Embarrassment is part of what we do. I think a true Nollywood actress will not be considered grown up, if she has not experienced any embarrassing moments. It's part of what we do as actresses. Sometimes, most of us decide to grow thick skin on account of it. To some people, what we call embarrassing moments is appealing to them.
Managing fame
When I'm working, I'm living another life. And when I am not acting, I try to separate the Uche on screen, and the Uche in real life. It helps me a lot because I cannot be doing make-believe all through my life. Where acting stops, the real life begins. And that's where the Uche in me comes out. That's how I manage my fame.
What acting has brought to me
Acting has brought me joy, laughter, sadness and fears. It's a kind of 'mixed-feelings.' And there are always two ways to it. But people try to look at one side of the coin. It's mixed. Acting comes with different phases and feelings. When one is down, one is expected to go back to the drawing board to reflect on the good and the bad things that one has gained from the industry.
For me, the things that I have gained far outweighed the things I have lost, which perhaps, informed my prolonged sojourn in the movie industry today.
The truth of the matter is that, these negative factors come in different phases. At one time, people sit down and make up who you are supposed to be for you, ever before they even come in contact with you.
At other time, people tend to be judgmental, and your life is constantly under scrutiny. Sometimes again, because you are acting, people no longer see you as a human being. But in the mix of all these razzamatazz, I have remained focussed.
That's the good and the bad aspect of acting. Sometimes, because of what people read in the national dailies about a particular actress, they tend to either form a negative opinion about that actress or paint her in a bad light. And sometimes too, people who even knew you ever before you were born could begin to ask question. So, when you find yourself in that kind of situation, you begin to wonder whether this is truly what I want to do for a living. And the answer has always been- yes. That's the price we have to pay for being celebrities.
Opposed to any role!
I think I am one of the lucky actresses in a sense that I have not been truly typo-cast in Nollywood. I still play the role of forgiven girl-friend, battered-wife, the bitch and the beast as well as a loving house wife. I think, my roles are mixed. I am not typo-cast. But I don't know yet which role, I wouldn't want to play. It could probably be the one that would challenge me the more. I don't know!
Aside acting
When I am not acting , I spend quality time writing. I also watch movies, in addition to reading novels and watching football.
Saying 'I do"
At the right time, I will let you know. I have not found the man I would want to marry. But if you ask me whether I am involved in a serious relationship, the answer to the question is yes. Have I been proposed to, No!. Would I want to disclose my guy's identity? No! Why? It's my private life. I have a relationship which has been nurtured for many years now. My man is from the South-east. And it's a conscious effort for me to marry from my Igbo nation.
Troublesome Uche Jombo!
Those are the roles I played. But in real life, I used to be stubborn when I was growing up. As a teenager, I did a lot of things. It's not like I am regretting them, they all formed the bedrock of who I am today. I think once in a while a trait of who I am readily manifest on screen. But I don't think I am still stubborn these days. At a point in one's life, you decide to do away with such traits and turn a new leaf.
Nollywood actors
I call them my customers. They include, Desmond Elliot, Jim Iyke, Mike Ezuruonye and Ramsey Nouah name them. I am calm and cool with these handsome actors. I like to be on set with them.