How I was sexually harassed - Uduak Akrahd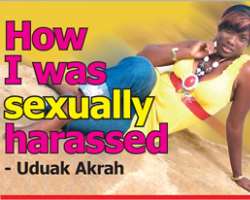 Young, beautiful and dynamic Uduak Akrah, has spent the past decade of her life as a Nollywood actress. She opened up to http://nollywoodgists.com in this interview on how she lost a script for a lead role in a movie because she refused to give in to sexual harassment. Uduak also says she could reject a role if she has to kiss someone too often.
Your first movie was Crazy Twins.
Yes, I acted alongside Tony one Week.
Movies done so far?
I can't really remember right now but it should be about 20 so far.
Why do you prefer soaps to movies?
In soaps, everyone is given a chance but in the movie industry, they always want to see a much known face before they will give him or her something very big or challenging and that's why I really prefer soaps.
Ever thought of quitting?
Well I'm thinking of that right now.
It's no longer fun to you?
It is fun but some people and things that go on there aren't making it encouraging for us to continue.
So what is the issue?
The issue is that, there's a lot of this thing going on in the industry and it's not encouraging, it's getting too much. Someone would want to give you a job for instance and he begins to toast you, it's crazy as far as I'm concerned.
Have you ever been sexually harassed?
Yes I have.
How did you handle it?
I know what I want and I cannot be intimidated by anybody or by anything. I shunned the person off. Okay, he gave me the script and that was supposed to be my first lead role in the movie industry, I've done lead roles in soap opera but this one, I was excited about after I collected the script that was the end of peace for me.
He was sending me all sorts of text messages on my phone and when he saw that I wouldn't give in, he just sent me a funny text that I should return his script with immediate effect and I did that happily. It was last year January and that was when the interest in the industry dropped and now, I have options, I want to do other things.
What are those things you want to do now?
Well, everything in my life centres on entertainment now, I want to go into events planning and I have a lot of projects on ground that I want to work on more especially stuffs on kids.
In Bafana Bafana, you were the one harassing people and then in real life, you were sexually harassed, how can you marry the two?
What is acting is acting, you are just playing a role and it's not the real you. Most times you have to do something that's outside yourself and there are some other times that you have to play a role is you but you still have to express the fact that you're acting.
Which is the most tasking role you've ever played?
It's a new soap opera titled wives and concubine.
It's on HITV for now and maybe by next year, it should be on local stations. I had to play the role of a concubine.
Are you not being stereotype?
Fine, I've always been given roles where I have to snatch someone's husband or seduce them and stuffs like that but this was really challenging for me because one, it was a major role and then two, the character was just a crazy person and I think it got my emotion the first time I read the script because what I had to do was something that in real life, it will make me cry, when you're hurting another woman but I had to do it because it was acting and for me, it was challenging.
How do you adapt to roles especially this type?
Well, I first see myself as that character and ask myself if I am in this position, what will I do? When the thought and ideas start coming, I just play it out.
Is it because of the money that you accept such roles?
At every point in time when something is exciting for me, I want to do it because sometimes you don't have the opportunity to do some of those things so, when you're acting, you just get to do them and find out what it's like.
If you were asked to act nude, will you do it?
Never!
What if the money is fantastic?
Never, because one, I'm a Christian and I have a family name to protect. It's not just me, I don't believe in it at all and I can't even imagine it.
How true is it that most romantic roles go beyond what we see on set?
It depends if you like the person.
Have you ever liked someone or fallen for it?
No, most times maybe people I've liked along the line could be those that maybe we've not even acted together before. There's no likeness or love in that, when you do the stuff, I think it's just infatuation because there's been some kind of romantic attachment because you want to express some things and when you are done, the feeling leaves you.
Have you ever been carried away while acting romantic roles?
No, I'm always in charge because I know that I have a name to protect, I always know you I am anywhere I find myself so, I am always conscious of that.
What soap or movie shot you into limelight?
It was the soap called Dominos. Domino got me noticed because a lot of people use to stop me and want to talk to me about it, a lot of people see me now and say you used to be on low cut; because that was what I used for Domino.
What ills would you want them to correct in Nollywood?
I think business should be business, it should be as professional as possible, and lets not give mediocrity a chance at all. If you want to do anything do it and do it well, we are getting better but we can still do more than what we've done. If everyone has the mindset that they want to be the best or put in their best, then I think things will work out well for us.
What film have you been most proud to be involved in so far?
Bus driver, private sin and then I'm doing a soap now called White house.
Do you reject roles?
Yes.
Why is that?
If the story is not fantastic or not well scripted, I wouldn't want to do it. And then, if the role is not something I would want to see myself doing, I wouldn't want to do it and I don't like too much kissing.
Why is that?
It's because we are in Africa and you know all that.
Are you presently in a relationship?
Yes.
Can we know who this man is?
No.
Is he that ugly for you to hide him?
No, that's not the issue, when it's time, everyone will get to know but we are working on it.
What has been the happiest moment for you?
It was the day I graduated.
How do you manage stardom?
I am always myself, I just believe in being original, yourself.
What turns you off?
Insincerity, lies and pride.
What's the most treasured possession you have?
The life of God in me, I'm a Christian.
How do you relax?
I go out with friends to have drinks or watch movies and sometimes, we could sit some where and chat.
If you were asked to do something for humanity, what would it be?
I want to do anything possible to help kids around me; I'm attracted to kids a lot. So, anything I can do to help a child, I could go the extra mile.
A lot of you stars now try to run orphanages here and there, why is that?
Well. I don't know their reasons but for me, it was my pastor that inspired me because in my church we have a mission of taking kids out of our streets.
Like how many movies would you want to do in 2009?
I have not really thought about this because I'm not really looking forward to doing any movies.
What drives your fashion style?
Anything that I am comfortable with at any particular time, I wear and as long as it suits me.
Where do we hope to see you five years from now?
In my husband's house with my kids and I'll be a name to reckon with in the entertainment industry.
Tell me about yourself My name is Uduak Akrah from Akwa Ibom, graduate of creative arts from the University of Lagos, I am the first child in my family and I have two younger ones.