Nollywood lacks 'green' movies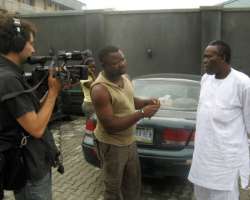 An environmental activist has said Nigerian films do not talk about the depletion of the country's natural resources.
Newton Jibunoh of FADE, a non-governmental organisation committed to the propagation of environment-friendly practices in Nigeria and Africa, said this at the 2009 lecture organised by the Nigerian Film Corporation held recently in Abuja.
Mr. Jibunoh spoke on the topic 'Film and the Environment'.
Jibunoh, who has undertaken three Sahara Desert crossings, said that at Independence, Nigeria had seventy-six per cent forest cover, which had depleted to less than four per cent over time.
He stated that if steps were not taken to protect Africa's natural habitats, the people will suffer. The solution to deforestation, said Jibunoh, was a sustained tree planting campaign. The motion picture industry, he also added, has a role to play. He told filmmakers to produce films that will bring the realities of deforestation to the fore.
Akin Maboguje, a professor of geography who chaired the event said he was gladdened by the film corporation's decision to highlight the dangers of desert encroachment and other environmental hazards. He said youths should take a cue from Jibunoh by travelling round the country to appreciate the landscape and environmental challenges of the country better.
Other discussants at the forum also challenged filmmakers to produce films that will tell meaningful stories about Nigeria's environment.
QUESTION OF THE DAY: CAN OUR PRODUCERS MAKE LIVING FROM ENVIRONMENTAL MOVIES