We Don't Sleep Around In Nollywood -----Kemi Alagbara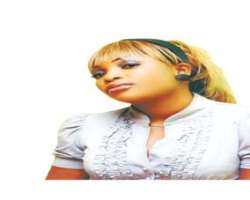 Kemi Alagbara may be viewed by many people as a pretty up and coming Nollywood face, but there is more to her than that. The sultry actress, who finished from the department of law, University of Lagos, started her career only a few years ago but has risen to the top as a result of what she termed her determination in the movie world and her passion for excellence.
"I graduated from the University of Lagos, where I studied law. Unfortunately, I have not been able to attend the Law School. This is as a result of my busy schedule in Nollywood.
"You see, I was invited to act in Alagbara alongside uncle Eniola Olaniyan, while I was in my final year. And just like magic, I got more roles while on the location of my first flick.
"Since then, it's been from one location to the other. I will still attend the Law School (eventually) and probably set up a firm, where I can employ lawyers for my chamber and I will work as the CEO. But for now, acting is taking so much of my time.
"Law is a very jealous profession that can't entertain any other profession much less combine it with acting. It's is never easy and they just don't go along," Kemi said.
Referred to as Kemi Alagbara in the movie world, where she has been able to carve a niche for herself in the Yoruba sector, Kemi has appeared in flicks like Alagbara, Jenifa, Ere, Mori Temise, Si Gbogbo Obirin, Nkan Itiju, Gbonjubola, Lai lai, Adara, Ohun Okanmi, Eremode, Oro Asoti, Ipa, Moja Mosa, Orekemulero, Apesin, Mapayamilekun, Omo Pupa, Maku, Oku Olomo, Idajo Owo, Aja Igboro, Makomi, Omo mi, Ajanti ele, Omo Ele, Gongo Aso, Omolasan, Adaba, Itele and Edun Ara among several others.
Calling her sexy is stating the obvious. And as a result, she has been linked with some men in the industry but to her, she's just the young lady, whose passion for the art can't just be taken away.
"I am not perturbed about what people say because in this part of the world, when you do anything or act alongside an actor in several flicks, they start peddling rumours that you are having an affair with the actor.
"All because they just want to say something about you. I used to cry over these things especially because they are untrue. But over the years, I have developed thick skin to negativity around me and I am devoted to making it in the industry that chose me, " Kemi said.
Kemi likes to tell the world she is single. That she is beautiful might have contributed to her success aside her brilliant acting skills.
"Well, to an extent, I would say that truly, my beauty, skin and fashion sense have also in one way or the other contributed to the stage where I am at the moment. Some producers choose me over other colleagues because of my carriage, beauty and knowledge of the job.
"But to a large extent, my skills and ability to perfectly interpret the roles that I am given has really paved way for me and made me, who really I am today.
"I don't intend to stop anytime soon as this is not only the beginning but the way to the beginning. And when I begin, God willing, I will be among one of the most dashing and interesting actresses to work with in Nigeria.
For Kemi, managing stardom isn't something that comes so easy but because, the end result of her work and passion is stardom, she seems ready to live her life well and make it an example for several other young ladies, who intend to follow in her footsteps.
"For me, it has been good and it could be better. I strongly believe that I didn't really get surprised by what acting has been able to do with my life because if you know me very well on the campus of University of Lagos, you'd know that I am a loveable and everyone in my department liked me for one thing or the other.
"Basically, I think we are managing stardom but it should also be corrected that Nollywood is not a prostituting institution, where people, men or women, come to prostitute like many believe. The industry is one of the best and for someone like me, I know that not all the ladies or actresses in Nollywood sleep around.
"I can count many that are very decent and innocent contrary to what people think or the notion people have about them and I am just one of them. It's not easy but God almighty has been good to us and we thank God in all."
Kemi is in a relationship at the moment, and according to her, she manages to go along with other male admirers and numerous other men, who desire to
get fresh with her.
"You see, I try to be friends with my fans and admirers because they are the ones that are responsible for my success. The truth is that without them, there is no me!
"I try to be friends with everyone and I manage to distinguish between friendship and any other form of relationship. I am in a relationship, so I can't cheat on my man. He is very understanding, loving and very interesting.
"Another thing is that I can date guys that don't like me because I am an actress, it's not that I can't date an actor or anyone in the industry but because I am engaged at the moment, I can't even date any person.
"I won't talk about my man on the pages of newspapers but it should be known that I am in a relationship at the moment and not available!"
One thing that has become synonymous with the young lady is her humility and fashion sense and this has seen many wanting to know how she manages that.
"See, I still would tell you that this is something that I picked up right from my childhood. My days in the University of Lagos were accompanied with tales of my dress and fashion sense and I was once nominated as one of the most fashionable students on the campus.
"I am not boasting about it but the truth is that when Funke Akindele contacted me for my role in Jenifa, she simply said, Kemi, I would want you to display some of those things you were known for when we were in school and I just said okay.
"It's just my way of life and I don't do it to impress anyone but simply to wear what is good and look good always."