Toni Payne returns with 9ice's baby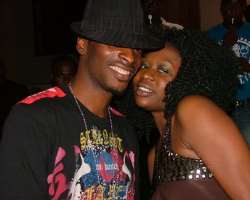 9ice's wife, Toni Payne is back in the country.
The young Los Angeles-based entrepreneur who delivered her first baby for the singer on Thursday December 4, returned to Nigeria on Sunday March 15.
She left the country last year, shortly after she exchanged vows with 9ice, 28, on Thursday July 17, 2008.
She was already a few months pregnant when she said 'I do' to 9ice at the Surulere Registry in Lagos.
Sources close to the couple told e-Punch Mrs Akande returned with her baby, Zion, around 5pm last Sunday aboard a Virgin Atlantic flight.
"Since she had the baby, she hasn't come home. And her parents and 9ice parents had been longing to see their grandchild," a source close to her told us.
There are also indications she may be considering setting up her business in Nigeria. Before getting married to 9ice, Toni had established herself as a promising entrepreneur, running an online entertainment magazine, as well as a cosmetics and apparel company under the trade name, Toni Payne. Her real names are Anthonia Oluwaseun.
"Yes my family is back," 9ice told e-Punch on phone during the week.