I was like a beggar when I got signed by Ivory Music – Zaaki Azzay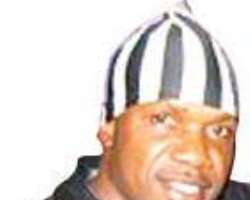 Zaaki Azzay recorded his first hit track, Marry Am, in the mid-90s. Since then, he hasn't looked back and is in fact going strong musically... with yet another release, Na Kwapsa, that is fast becoming popular. He speaks with Oseyiza OOGBODO about his current moves
Having been in the music industry as a professional since 1993, Zaaki Azzay is one of Nigeria's most seasoned and successful musicians.
An indigene of Vandikya Local Government Area of Benue State, Zaaki's journey into music stardom is like that of many other successful musicians. He was just an artiste miming on television in Kaduna when he heard a King Sunny Ade song on radio and it made him realise how local an artiste he was.
He therefore resolved to relocate to Lagos to attain the level of genuine music stars. Once he made the decision, he found his way to Lagos in 1991 where he had the greatest shock of his life: No one accepted him.
Going around all the record labels - EMI, Polygram, Premier, etc, - Azzay met no luck. They kept turning him down with the excuse that his style of music wasn't viable and that he should switch to ragga and reggae like Ras Kimono and Peterside Ottong.
Confused and anxious to become a success, so he wouldn't have to depend on anybody for his upkeep, and yet conscious of the fact that he could not change his styleof music, he set out on his own. His first major record is a re-make of Onyeka Onwenu's One Love and it finally got him noticed by a record label, Ivory Music.
The offer to sign him on was by Providence. It was the last hope for him to get out of want. "I was like a beggar when Ivory Music was to sign me. I had tried every other avenue without success so I practically begged Ivory to bail me out."
His appeals then were a true test of Zaaki's character. As a man in need of something, he had to get it how best he could. And he did get the record deal that paved the way for him to become the revered artiste he is today. Hip-hop wasn't the rave then, it was what he did and was still able to make it back then.
Not just that hip-hop wasn't in vogue, Zaaki was also doing his rap in Hausa, which made him unique and immediately opened up the Northern market for him. Curiously, after all these years, Zaaki is still dominating the North as no other artiste has been able to do Hausa hip-hop the way he does it.
Part of what Zaaki still recalls from the early days of his career is that his first album was a mere introduction of him to the music-loving public while his classic hit track, Marry Am, stabilised his presence in the industry.
Since that first album, Loaded, released in 1995, Zaaki has released many more. Black Gold (1996), Kakkaki (1998), My Millennium (2000), Thank You God (2001), I'm Chosen (2003) and Zaaaaaaaki (2006).
Though he's getting close to two decades of professionally practising music, one of his desires is to have that staying power that will enable him go on for as long as possible like two of his favourite colleagues in America, Mary J Blige and LL Cool J.
They are two artistes Zaaki really admires because they have been in the game for so long that it gives him goose pimples. As per Mary J, he earnestly hopes to feature her whenever he can and is plotting toward achieving this.
He also hopes to do a collaboration with Mary J Blige and many other foreign artistes on his subsequent albums. Azzay says that he respects and will like to work with the duo of KC Presh. The record they did together is entitled: My Reign and it got a lot of airplay when it just came out about three, four years ago.
According to Zaaki, it was not as if he had plans to feature KC Presh. However, he was coming from Charly Boy's place one day when he ran into them and they were very humble and he felt it was best to feature them in one of his songs through which they would gain more prominence than they had at that point in time.
Comparing the state of Nigerian music now and when he started is very easy for Zaaki to do. The major difference between then and now that he's observed is that Nigerians are no longer interested in bad music. They now know what good music is which is why they have embraced Nigerian music warmly.
Maybe this acceptance of Nigerian music at home is why Zaaki believes that Nigerian music can now break into the world market. His words: "Nigerian music can break into the world if we define our music, not this situation we have now where everyone is like doing their own individual thing, no unity. Nigerian music should have one name. We must come to an agreement to sell it to the world."
Would he be willing to lead the revolution to make Nigerian music become internationally accepted? His reply was: "It will be heroic to do so and I'll gladly take the opportunity if it's given to me."
What most people don't know about Zaaki is that he's just not a musician. He established a fashion label, Hip-Hop House, in 1996, and operates it by paying designers who work on producing various designs which he mass produces and sells through distributors.
Zaaki is also one of the few hip-hop music artistes who bothers to play an instrument. That of his choice is gulmi, a Hausa guitar that enhances his brand of music, traditional hip-hop and gida.
Funny enough, despite all the success he's been able to achieve in music, Zaaki says he hasn't started yet as a musician, and that he would only begin to feel he's achieved in music when he becomes internationally recognized, makes much more money than he has now, and has streets and monuments named after him that would ensure his name becomes immortal.
Zaaki is not Hausa like many believe. He is Tiv.
He runs a fashion label, Hip-Hop House.
Getting married to his wife, Adiza, was initially a problem because he's a Christian while she was a Muslim.
He has many power bikes that he loves speeding on.
His trademark white and black style is an adoption of the style of Takuruku Nyamazinga, the first Tiv man who used to wear zebra skin only when others wore leaves as well as animal skin in the days of no clothes.
He believes his state, Benue, which is also that of Tuface Idibia and Bongos Ikwue, is the current entertainment capital of the north through music, just as Plateau State was once through the acting prowess of its indigenes.
ROMANCE with StepH-NORA OKERE?
The father of three, Zakki, described it as untrue. To him, "It is funny that people had that kind of thought. Stephanie is my wife's friend and Ican never have an affair with her because I respect her a lot."
When asked if they were together at Jay Jay Okocha's valedictory dinner at Planet 1, Maryland, Lagos, he admitted it "Yes, we moved together and we danced together. But she wasn't the only one. I feel comfortable relating with actresses because we are both in showbiz," he disclosed. "In fact, before the Jay Jay Okocha party, I had not seen her in two years even though we worship in the same church. It was funny that people now carried the rumour that we were dating."
Steph-Nora Okere is a Nollywood star actress and has featured in several movies. She was at some point married to Lanre Falana before the marriage crashed and she has since moved on with her life.