Movie stakeholders, journalists parley in Abuja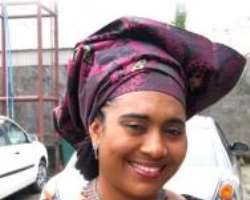 BOBTV 2009, the 6th edition of African Films And Television programmes Expo has afforded journalists covering the movie beat an opportunity to get down to... serious business with a workshop at the Ladi Kwali Hall of Sheraton Hotel, Abuja.
The workshop with the theme, Consolidating the Phenomenon Nollywood was organised under the aegis of Association of Movie Journalists (AMJ). Its goal was to keep film critics abreast with the current situation in the industry as well as build a bridge for filmmakers and media practitioners as partners in progress.
The hall was packed with notable names in film making and the media endeavours such as actress and movie producer Hilda Dokubo, Fred Iwenjora of Vanguard Newspapers and a host of other journalists.
President of AMJ, Stanley Okoronkwo explained the need for the synergy between the media and filmmakers to be strengthened in order to make Nollywood a booming venture.
"This is what AMJ is all about and what it strives to foster too. As you know, AMJ is the umbrella body that binds journalists who report the movies and allied industries. This workshop is one of those things that we do to bring about a very binding relationship between the two bed fellows," he said.
The workshop is part of the package put together by BOBTV 2009.
Meanwhile, over 250 Film distributors gathered at the nation's capital, Abuja since last Sunday for the BOB TV African Films And Television Programmes Expo holding under the theme, Consolidating The Phenomenon Nollywood - with the National Film And Video Censors Board promising to settle the issue of distribution in the movie industry once and for all.
NFVCB Director of Corporate Affairs, Tanko Abdulahi disclosed that there is need to put sanity into the distribution section of the industry, as well as tackle current contentious issues at stake and chart a way forward. He noted that there is need for such gathering as BOB TV occasionally, to consolidate on the gains of Nollywood and gains of the distribution being envisaged for the industry.
The distributors categorised into national, regional, state and city who also attended the BOBTV 2009 fair all freely discussed the problems militating against them .There was also a workshop for the participants as well as a luncheon and seminar with a gala nite at Ladi Kwali Hall of Sheraton Hotel, Abuja venue of the ceremony.
At the last count, 26 universities spread across the country are currently participating at the film expo.
The students are mainly from the Theaters Arts And Film Department of their various institution.
They were engaged in programme created in the expo under the tag, University Challenge. The topic for this year edition is Impact Your World.
One of the students from Obafemi Awolowo University, Ile -Ife Charles Unogbo said it was fun being part of the event. "It has afforded me the opportunity to see and to learn many things within a short time. "I really thank BOB TV especially the indefatigable Amaka Igwe for putting up such a splendid programme together."
Since inception six years ago, University Challenge has always been part of the fair