TWO BAGS A DAY HELP YOU WORK, PLAY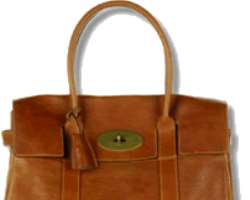 Carrying office essentials from office to meeting to lunch or dinner dates call for more than one bag By FUNKE ADETUTU
What do you do when you have a lunch date or meeting outside the office and your large bag, so convenient for laptop, spare shoes looks so chunky? Well, the arrival of oversized bags seems the perfect solution to this problem that has been besetting working women. Most oversized bags now make it easy for working women to slot in a clutch or pouch bag, which makes it easy for them to switch from one to another after working hour depending on the occasion.
These days, hardware-laden big bags have fallen out of favour and the truly chic women have reversed smartly to sleek small clutches, one could say that working women have been marginalised in terms of stylish bags. Hence, designer labels like Mulberry has risen to this challenge with its latest Bayswater bag, which is perfect as a daytime work bag while an A4 notebook fits inside the clutch and the pouch fits inside both bags.
Fashion experts say the clutch bag is popular with non-working women who leave for lunch dates from their homes or are hanging out in the evenings with their husbands or friends, but it is not a practical all-day bag for professional life. Hence, bags designers have been churning out different bag models across a range of shapes and sizes, usually with a clutch option as the smallest. All famous designer bags are capacious in proportion to their size and easy to open, so that working women can slot a clutch into the largest version.
"Mulberry's iconic Bayswater bag is reworked into a luscious lavender hue just in time for working women and it is perfect for filling with your everyday essentials. There is something about an earthy understated bag that is so practical and perfect for so many. Many times we are all so caught up with the newest trends, that we forget many people manifest their handbag desires in a great everyday bag," says Banke Bankole, a bag dealer. She explains that the Mulberry Leather Bayswater bag is a fabulous signature piece which is season less in its appeal because of its size and capacity to take almost everything.
The Enid bag collection manufactured by a United Kingdom based designer, Smythson is another handbag designer who shapes hers designs round other women's work and travel experiences and fashion demands. The Enid bag's silhouette draws on the art of corsetry with its distinctive hand-stitched corded leather. The frame lends structure to the soft goatskin leather body. The Enid is finished with a shagreen grey and brushed gold clasp. The wide opening reveals sumptuous peach silk lining and ample space beautifully organised with ruched pockets. This leather clutch bag to see you through day to evening occasions and it is made in a soft goatskin in a classic dark grey shade, granite.
Lamide Olaosebikan says she prefers handbags with removable, purpose-built partitions and containers which enables her to carry other times like jewellery, make-up discreetly. "I always have an enormous bag with all my clutter. But i think it is more chic to arrive with a big bag that complement your outfit and then take out a small bag which still complements your outfit."
It is for consumers like Olaosebikan that some designers that produce double bag with the little clutch bag for small items. "Pulling out a beautiful matching bag containing your glasses or pen or notebook at a meeting or lunch suggests how organised you are as an individual," adds Bankole.