CHRISTIAN OGBEVIRE ASHAIKU – DIRECTOR/PRODUCER EXTRA-ORDINAIRE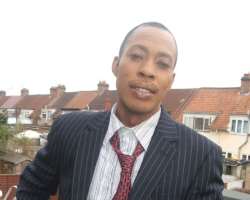 BACKGROUND
Chris, as he is popularly called is fast becoming a household name in Diaspora due to his fastidiousness and professionalism in making sure that productions are done without any mediocrity. A Writer/Director/Producer, he is quite unique in his way for the reason that, if you want to be in his production, then you must be ready to bare all, dedicated, hardworking and give all if need be.
Chris is sometimes perceived as an over- the top Director with some of his ideas as they may include nudity and fast paced-Hollywood style. However, his aim is that you need to deal with reality and not fiction, an approach which some artiste frown at but he does not care about that. To him, if you cannot follow the script, then don't take the role.
Chris is the CEO of African Film Tour U.K Ltd (AFT), a unique full service film production and sales company based in London. It was formed in early 2000. The company has in a short time established itself as a leading production company, which has created work in a range of digital media and contributed to the development of the exhibition possibilities of world cinema through festival programming. Programming work includes Mama Africa in partnership with the BFI (Blackworld) and festivals across London, Slovenia, Berlin, and Vienna.
According to Chris, they are now fully established in the local region having produced "Disoriented Generation". This debut feature shot in London and based on a true story is expected to hit the theatre in the summer of 2009. "Searching For Love",
A British film… Featuring on-screen and off-screen talents from Nigeria and the UK… On Screen talents- Wil Johnson the lead "Playing a Nigerian" in the UK. Others are:- Jide Kosoko, Shola Shobowole and Titi Jacobs (LadyTJ). Screening at the BAFTA on the 24th of this month.
Furthermore, Chris stated that AFT has now moved on to produce its second feature length theatrical film entitled "On My return" after developing various other scripts over the last 18 months. They have successfully concluded the development and financing plan, with a packaged project involving high quality UK and African screen talents and experienced production personnel.
AFT have attracted the interest of many established organizations. A deal memo is in place for the distribution rights.
The project is now seeking to move into production in the Summer of 2009.
The project is a much anticipated third narrative feature film him as the writer and he would be directing it too.
In a tale that resonates over generations, "On My Return" tells the story of two young adults brought together for a common purpose of raising the level of advertisements in their country. The love relation which ensues is faced with social, political and cultural hurdles.
"On My Return" is a contemporary modern story of love, self sacrifice, innovation and tenacity Fast paced and visually stylish, the film will feature lead performances by award winning British actor Adrian Lester, alongside the equally talented and dynamic Wil Johnson (Emotional Backgammon.). Finishing with an unexpected twist ending, the film will also feature highly experienced Nigerian actress Genevieve Nnaji amongst other experienced production crew both in Nigeria and the UK.
Chris has produced many foreign and African films which had starred prominent Nollywood stars both in London and Slovenia.
His thoughts are that Nollywood is becoming renowned in Diaspora but still have a long way to go in terms of technical quality and casting. Our artistes are still quite shy and find it hard to loosen up. They should be able to take challenges but are just too reserved for his liking. He hopes to break those barriers with some of his new stories and productions.
Nollywoodgists wish him the best in his productions.