I was not raped –Ekwe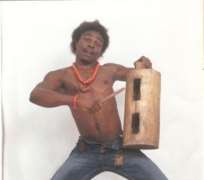 As the Glo Rock N Rule show is staged across the country, many stories are making the rounds about artistes on the show. Most recently, the story about town is that Warri-born musician, Original Stereoman, also called Ekwe, was almost raped by some girls, who broke into his hotel room in Makurdi.
It was said that the musician had been drunk and as such, it was easy for the girls to gain entrance into his room and demand that he sleep with them.
Whistles spoke to Ekwe on the incident and he had this to say "It's not true. Normally when I go to shows, girls come around trying to be close to me but I try to respect myself because I am not there to play but work," adding, "how dey go fit wan rape warri boy like me? E no happen."
Also confirming that no such thing happened, was a participant at the show who argued that since Ekwe was staying at the second best hotel in the state, the security could not have allowed that kind of thing to happen in the first place.
But was Ekwe alone in his hotel room? A little bird whispered that apart from the lady he brought along as his guests, there were no other girls with him that would have attempted to rape him