Rumour Mongers Are Blackmailers - Nike Peller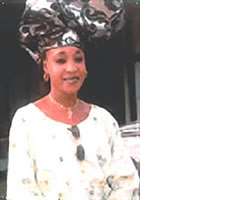 STAR actress, Nike Peller, has described the tale making the rounds that she is savouring a sizzling romance with an America- based businessman as malicious to her person.
The daughter of the late famous magician, Moshood Peller, a.k.a Professor Peller, expressed dismay over the tale, adding that those responsible for the rumour are nothing but blackmailers who are all out to destroy her image.
"I have never c ome across Patto Momoh, the man they claim I am dating. But I don't see anything in knowing a name like that in my life. Is it a crime to know one or two people in London and America?"
It would be recalled that Nike confirmed to Saturday Entertainment recently that she had wedded.
Asked to clear the haze on the true identity of her husband, whom she claimed to have wedded secretly few years back, the light skinned actress declined.
"That is private. I think I have told you earlier that my husband does not like publicity, so, I can't tell you his name, his job or where he comes from. All I can disclose to you is that he is a Yoruba man."