'I Am Not A Womaniser'------- Adedayo Davies aka 'Baba Landlord'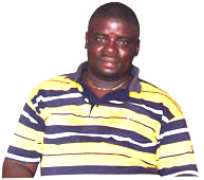 The name Adedayo Davies may sound unfamiliar in the ears of many but at the mention of 'Baba Landlord' as he is fondly called he remains the toast of many any day. He is a regular face on the soap opera Flat mates that has captured the attention of thousands of television viewers. A graduate of Banking and Finance from University of Lagos in this interview, with TOPE OLUKOLE bares his mind on issues that affect the industry and more.
Can we take a peep into your background?
I was born in Ilesa, Osun State but grew up in Lagos. In my teens, I started acting but I took it up professionally in my twenties. I'm in my late 30s. I attended Ladylak Primary School, Apapa, Federal Government College Kaduna , graduated from University of Lagos where I studied Banking and Finance.
What about your journey into acting?
When I got admission to UNILAG, I joined a club that was into theatre. In those days, when Wale Adenuga wanted to start Papa Ajasco, he came to recruit people from the club. I was among the first set of actors in Wale Adenuga Productions because many of us passed the auditioning. I was given the role of a lunatic. I started with a drama group while I was in secondary school in the 80s.
Who is the best producer you have ever worked with?
Wale Adenuga is a lovely person, although I have never worked with a producer that makes me feel bad. Wale Adenuga is somebody you can just walk to and share your problems with. He is a good listener.
Your favourite artistes?
In terms of comedy, I gave kudos to Mr. Latin especially on his job titled Omo Ode de. That is the best comedy I have ever watched so far. He did some stupid things for good reasons.
What is your view about the influx of films into the Nigerian market?
The profession is money spinning and people are crazy to invest in it. Although a lot of them make this money from fraudulent practices, all because they want to produce films. In the English sector, we have few producers, but in the Yoruba set up, you are paid peanuts and that is why most of them want to be producers in order to make money.
Somebody like you could have ended up in a finance house having studied Banking and Finance?
I am a shy person except when I'm on set. I am the first son in the family and my father is the type that allows his children to choose the kind of discipline he or she likes. Actually, when I chose Banking and Finance as a field of study, it did not occur to me that I would pass through the rudiment of Mathematics. Initially, I wanted to join the navy because I had an uncle in NDA, before I later changed my mind. I am sure this is what God wants me to do.
You have been part of a lot of soap operas, is there any plan to feature in home videos?
Why not. Personally I would not mind if I'm called upon because this is what I enjoy doing most.
In your own view, how do you think the industry can tackle piracy?
I must commend Emeka Mba for a job well done and want everybody to join hands with him. The police should also give a helping hand. By so doing, piracy will be a forgotten issue. It is hard to pin down some of those involved in piracy. I believe there should be enough awareness on this. Viewers should be made to know the kind of logo to look out for before buying a film because a lot of them will not want to buy pirated copies. So also, a lot of those in the business of piracy will fold up for lack of patronage. A producer, Kunle Afolayan who travelled to the UK said every copy of his job, Irapada he came across were all pirated.
Some people believe video clubs should give way, do you share this idea?
There is nothing wrong with their existence because many of them have been paying royalty.
Can you say the industry is doing well compared with its foreign counterpart?
The industry is growing, especially the Yoruba sector. I hardly watch Igbo films. I've also realised Yoruba films are making an impact and people have a lot to learn in terms of story line. I think the English counterpart should slow down and digest their stories properly; it is not a question of whether you have money or not.
Are you saying English films lack moral standard?
I am not saying so. What I mean is they should be more serious in terms of story line. For instance, it is quite easy to predict what happens next in some of these films as you watch the beginning.
What do you think might be responsible for this?
Some of them come from the producers while the rest are as a result of the Nigerian economy. Lack of electricity, traffic are some of the problems that have crippled the industry.
And what is the way out?
I have already told you they should slow down, not churning out films. Films like Diamond Ring, Agogo Eyo have a lot to teach; even though they are old films, people can still learn from them. Some of our new films do not appeal to our senses and they lack value.
How did you come across your stage name, Baba landlord?
Flatmates had started for some time before they created the role for me
What do you dislike about the industry?
People see all actors as irresponsible. Despite that I don't club, womanize or go to parties. I find it difficult to convince people that I don't do these.
At your age, one expects that you have a separate accommodation rather than staying with your parents
That should not pose a problem. I shall get my own accommodation as soon as I am ready to settle down.
How fulfilled are you?
I'm yet to reach my peak.