BUKKY BLACK, FALI WEREPE BANNED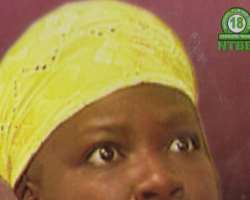 Bukola Babalola, a.k.a. Bukky Black
Two Yoruba movie actresses, Bukola Babalola, a.k.a. Bukky Black and Modupe Johnson, a.k.a. Fali Werepe, have been banned by the leadership of the Association of Nigerian Theatre Arts Practitioners (ANTP).
Bukky Black was, on Tuesday, disgraced at the monthly meeting of the Lagos chapter of ANTP, when the leadership of the association ordered her out of the venue, pronouncing a three-month ban on her for gross misconduct and misrepresentation of Yoruba movie artistes. Fali Werepe, who was absent at the meeting, was also suspended from acting.
http://www.nollywoodgists.com investigation revealed that there had been a long running feud between the two actresses and it worsened when recently the two of them threw caution to the wind and washed their dirty linens in public. A reliable source in ANTP disclosed to http://www.nollywoodgists.com that the two actresses fought recently after a meeting with the Permanent Secretary of Lagos Television, Mr. Lekan Ogunbanwo, who had summoned some top artistes to give them tips on how to be good role models.
The two actresses were alleged to have called themselves various unprintable names during the brawl. "That was when the bubble burst and they both revealed their dirty past to the public," the source added. The president of ANTP, Prince Babajide Kosoko, confirmed the incident. He added that the actresses have been banned for three months, pending the time the disciplinary committee of the association will conclude investigation on the matter.
He also hinted that they may be banned for life if found guilty of the charges leveled against them. Pleading her innocence to the charges leveled against her, however, Bukky Black stated that her running battle with Fali Werepe only came to the fore when she (Fali Werepe) verbally attacked her in public. "She called me a prostitute and said that most of the (married) men that I have dated died in my house because I have been cursed.
"Aunty Fali even said she wouldn't mind sending me to jail for reasons I am yet to know about. She also said openly that my only daughter is a bastard and that I will lose her. "Please, help me beg her to forgive my shortcomings and let me live my life the way I want," she pleaded in Yoruba language. When also contacted, Fali Werepe simply said Bukky Black had bitten more than she could chew and should be ready for war, adding that "she's a younger and junior colleague. I know how to deal with her."
Fali Werepe declined speaking further on the cause of their fight. Bukky Black was, months ago, arrested by policemen at Ipakodo in Ikorodu area of Lagos state, when her lover was reportedly shot dead in her Ikorodu residence. She spent several weeks in detention before regaining her freedom from police custody after investigation on the case was concluded.
By Olatunji Saliu