Yoruba Actors Best In Epic Films —Ogogo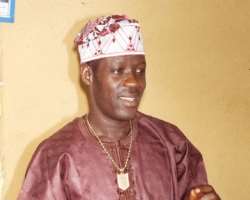 Popular Yoruba actor, Hassan Taiwo, known as Ogogo, has claimed that Yoruba theatre practitioners are more versed in shooting epic films than their Igbo counterparts in Nollywood.
In an interview with http://nollywoodgists.com, the 49-year old actor cum producer, said that though Nollywood is blessed with talented artists, the Yoruba actors epic films depict Nigeria's cultural values than their celebrated Igbo counterparts.
"We have more epic stories to write than the other groups in the movie industry, particularly the Igbo actors. Though they shoot epic films, they are always drawn from other people's culture and origin.
"No doubt epic stories are made through an in-depth research but you can only write good stories, if you are versed in the culture you are trying to project in the movie. The writers and producers as the main sources of such films must therefore be well grounded ", he said.
Ogogo noted that the pioneer Yoruba actors had laid down the legacy of shooting rich Yoruba films before they departed to the great beyond.
Past works of veterans such as the late Hubert Ogunde, known to date as the doyen of theatre art practice in Nigeria; the late Duro Ladipo and Kola Ogunmola have done great job to showcase this. Even the Nigerian Films and Video Censors Board (NFVCB) can buttress the fact that Yoruba actors have done more epic films that are rich in cultural values than others in the industry", he claimed, while reacting to the motion that the Igbo actors seem to have made more progress and shot better films than their Yoruba counterparts.
The top actor from Odunfa caucus of the Association of Nigerian Theatre Arts Practitioners (ANTP), stated that besides film making, he grew up learning to appreciate the rich culture from his parents and the environment.