ACTRESS,LOLA ALAO OPENS UP ABOUT HER ROMANCE WITH KOGI STATE GOVERNOR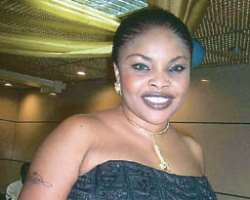 Lola Alao, one of the A-List actresses in Nollywood, recently talked about her relationship with Kogi State Governor.
She said;
what else do you expect from people? I think you should expect something of such because anytime people see a governor supporting any actress from his state, people will start saying they are dating.
This is not the first time I will hear that. But one thing I am sure of is that it is not true.
My governor is a very responsible man, happily married and he has the fear of God. We are not dating. He is just giving me his support. He likes what I am doing and he is supporting it.
When we did Face of Nollywood,it was Steve Ebu and others who met him. They are not women and the governor supported them.
So,I am from Kogi State and I am doing what he likes, why won't he support me? So, people just like spreading unnecessary rumours and I am not bothered.