COOREMAN BLASTS TAYE TAIWO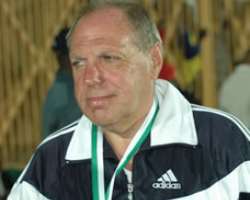 After 12 years of dedicated and successful coaching career in Nigeria, Maurice Cooreman no longer sees himself as a Belgian but a 'white Nigerian'. The Belgian tactician who has won many trophies with three different clubs in the country is, however, disappointed that President Goodluck Jonathan did not look his direction when he recently awarded special (Nigerian) citizenship to some foreigners that have contributed to the growth of the nation.
In this no-holds-barred interview with the Kaduna United gaffer in Kaduna last weekend, Cooreman, who has discovered many players since he arrived Nigeria regretted that the relevant authorities have yet to give him a chance to handle any of the national teams. He revealed how he recently dreamt that he guided the Nigerian team to the final of 2014 World Cup in Brazil.
His pain includes what he described as the height of ingratitude exhibited by Super Eagles' and AC Milan defender, Taye Taiwo, one of the players he discovered and nurtured to stardom. The interview is exclusive, compelling, emotion-laden and un-put-down-able. We serve it hot and fresh for your Saturday delight. Happy reading!
The beginning:
I first visited Nigeria in 1993. I stayed for just about two weeks during which time I was able to watch some league matches to assess some players, because, then I used to scout for players for some teams in Belgium.
I eventually settled in Nigeria in 1999 to take up a coaching job with Niger Dock Football Academy under the management of former Sports Minister, late Air Commodore Emeka Omeruah, a very nice man and Chief Ozobia, the then Managing Director of Niger Dock. I accepted to work as coach in the soccer academy having visited Nigeria many times previously.
Experience
I learned a lot within the three years I spent at the Niger Dock Soccer Academy. I gained a lot of experience because I learned a lot about the mentality of the Nigerian players and the people generally and I believe that was why I have been able to achieve a lot as a coach in Nigeria.
I had players from all parts of Nigeria and the first lesson I taught them bordered on discipline. I underlined the importance of discipline because without discipline you cannot succeed in life. First, I emphasized on the need to come to training on time. I also let the players know the importance of training very hard.
Players discovered at Niger Dock Academy
I took two players from the Niger Dock Academy to Europe and they made it and are still having successful careers, Manaseh Ishiaku and Taye Taiwo. While Ishiaka made it to Europe after one year at the Academy, I took Taye to Gabros International Nnewi and later to Lobi Stars of Makurdi from where he joined Olympique Marsseille of France.
Gabros International of Nnewi
After working at Niger Dock Academy, I started my club coaching with, Gabros International FC in Nnewi, a Premier League side then. I learned a lot at Gabros because it was a private football club. There was no money at the club. Sometimes the players would come to me to beg for money to eat. They would plead with me, 'coach, please, give us light training because we don't eat'. I really learned a lot at Gabros and I enjoyed my stay there. While I was at the team, we were playing very good football and when I left the team, a lot of players left the team for bigger teams in Nigeria.
Lobi Stars
When I left Gabros, I went to Lobi Stars of Makurdi. There was a lot of difference between Gabros and Lobi. At Lobi Stars, we had a chairman that played professional football in Europe, Dominic Iorfa. Although we had a little problem working together, may be because we were not from the same level of football, but I enjoyed myself at Lobi Stars. We achieved something, at least playing in the continent.
NPA Seasiders Lagos
After Lobi Stars, I went back to Lagos with NPA Football Club, where I worked with Mike Idoko, who was then the Team Manager. There were a lot of problems, especially, non-payment of salaries, sign-on fees and match bonuses. Despite all the problems, we still played good football at NPA.
Bendel Insurance
Then I received a good offer from Bendel Insurance, another big club in Nigeria. And I think we achieved something too at Insurance.
Ocean Boys fans wanted me sacked
After working with Bendel Insurance, I waited for quite sometime time in Nigeria before I got an offer from Ocean Boys that were just coming from the Second division to the Premier League. I remember that the league was divided into two groups, A and B that season. Each group had 10 clubs. I remember that after the first stanza of the season, we were in the last position on the league table. And some fans of Ocean Boys were shouting, 'this oyibo coach is not good, sack him!' But I told everybody to watch out for Ocean Boys in the second round. I told them they would see a different Ocean Boys in the second round.
Super Four Play-off: Ikhana begged me for a draw
When we went for the Super Four play-offs in Abuja in 2006, a lot of teams underrated Ocean Boys. I remember when we played the last match during the regular season, we lost 1-0 to Niger Tornadoes and I understand that the then coach of Kwara United of Ilorin, Kadiri Ikhana and Clemence Westerhof watched the match. I was told that Ikhana said he would beat Ocean Boys 5-0 at the Super Four. But by the time we started playing at the Super Four, the players were playing on a good pitch and big stadium for the first time, we won our first two matches and were to meet Kwara United in the last match. Then the coach of Kwara United, Kadiri was begging me to play a draw to enable his team qualify for CAF Confederation Cup the next year. Already with our two previous victories, we already had a ticket to play in the CAF Champions League. We ended up as champions of Nigerian League and that was an achievement I would never forget in my whole life.
Anyansi begged me to coach Enyimba
After my feat with Ocean Boys, Chairman of Enyimba, Chief Felix Anyansi was calling me everyday to come to Enyimba. I had to go to Enyimba because I had a lot of problems at Ocean Boys, non-payment of salaries and sign-on fees among others. I remember then that a lot of journalists said to me, coach, do you think that you can achieve something with Enyimba like you did with Ocean Boys because Enyimba is the biggest club in Nigeria. And I told them that I did not see any difference between Ocean Boys and Enyimba. I told them the fact that Enyimba was the best team in Nigeria would make it easier for me to achieved something with the team. In my first year with Enyimba, we won the league and played in the Super Four in Lagos and we won that too.
The second year, we had problem at Enyimba with the change of government. I think the exit of the former Governor, Dr Orji Uzor Kalu was largely the reason why Enyimba was no longer the same. By the second year, we had more problems because we played in the CAF Champions League, where we got to the group phase. We won all our three matches at home to qualify for the semi-finals. We met Al Ahly, the best team in the continent at that moment with more than half of the national team of Egypt, then the champion of the Africa Nations Cup. We played goalless in Aba and lost 1-0 in Egypt. But the achievement is very good. I won the League and the Super Cup with Enyimba and won the league with Ocean Boys.
Ghana adventure: Fans of Ashanti Kotoko almost killed me
I made a big mistake by going to Ghana when I left Enyimba. I later found out that the people I met at Ashanti Kotoko were not ready. I was told that the club had sacked five coaches under three years before my arrival. No doubt, the club is one of the best in Africa. After losing a match at home to arch rivals, Accra Hearts of Oaks, 1-2, I had to spend three hours in the dressing room because the fans of Ashanti Kotoko wanted to kill me.
I had to hold a discussion with the chairman of the club and I had to resign because my life is more important than football.
Kaduna United
I returned to Belgium after my adventure in Ghana and waited for a while before I received an offer from Kaduna United courtesy of Alhaji Sabo Babayaro because he knows me very well. It was the first time I would be coming to work in the northern part of Nigeria. When I arrived Kaduna United, they lost about five of its best players to other teams, Enugu Rangers, Enyimba and others. A lot was expected from me and I promised do my best to build a new team. Then somebody introduced Jude Aneke and a right full back, Victor, from Anambra United to me. When I saw the players, I said I wanted them. Jude scored about 13 goals from the mid season to the end of the season. He's playing his second season with the team and I think he's one of the best strikers in the Nigerian League.
He's currently the top scorer in the Nigerian League with 16 goals and I hope he continues to play the way I want to see him play. I believe he would achieve something in his football career because I expect him to move to Europe in no distant. Having won the FA Cup with Kaduna United in the first season against my former team, Enyimba, I had won everything there was to be won in Nigeria. And I think all the people that watched the FA Cup final in Kano last year were surprised that Kaduna United could play the way we did. That's what I like to do with every team I coach. At the moment, we are of the best playing football clubs in Nigeria. We're a bit disappointed that we're out of this year's Federation Cup, being the defending champion, but we're throwing everything into the CAF Confederation Cup. I have told the players that they have a chance to write their names in gold by winning the Confederation Cup. People are watching them on television all over the continent and they have a chance to go to Europe to play and make good money. I believe we have the chance go play in the semi-final of the CAF Confederation.
Recognition: I'm a white Nigerian
I watched the news when President Goodluck Jonathan awarded Nigerian citizenship to many foreigners that have contributed to the development of Nigeria. I'm very disappointed that the President refused to recognize my contribution in the game of football in Nigeria because he was the Deputy Governor of Bayelsa State when I won the league with Ocean Boys. The Vice President is from Kaduna State where I made history last year my winning the Federation Cup with Kaduna United, the first time by any team from that state.
I dreamt that I led Nigeria to final at World Cup 2014
I want to achieve something with the national team of Nigeria. Apart from Clemence Westerhof and Bonfrere Jo that won the Nations Cup in 1994 and Olympic gold medal in 1996, no coach in Nigeria, either foreign or indigenous, has recorded more achievements than I have in the history of Nigerian football. Samson Siasia and John Obuh only reached the finals at FIFA competitions but they did not win the trophy. Every body knows me in Nigeria. I'm like a white Nigerian. Many of the players in the national team played under me. I know virtually all the Nigerian players very well. And I think that is enough for me to be given a chance. I'm 100 per cent sure that I can achieve a lot as coach of Nigeria's national team. With the Nigerian players abroad and the home-based players, I think I can achieve a lot for Nigeria. I was dreaming one day that I was in the final with the Nigerian team at the World Cup in Brazil in 2014. Give me the chance and I could turn that dream into reality.
I love Nigeria very much. The last time I was in my country on Holiday, I received many offers. They heard about my achievements in Nigeria and they begged me to come back home and coach my former team now in the second division of the Belgian League. I refused because my life is in Nigeria. I have a beautiful wife in Nigeria and I have made a lot of friends in Nigeria. I'm a white Nigerian and I want to return to Nigeria. I thank you very much for the offer you made to me but I want to go back to Nigeria.
Super Eagles lack discipline
I noticed that Nigerian players plying in Europe do not give their best when they come to play for the national team. Each time they come home for national duty they believe they are on holiday. They do not seem to realize how serious World Cup and Nations Cup qualifying matches are. But they must play for Nigeria and that, I can achieve. I have something special given to me by God. I can motivate players to achieve great results. Go and ask all the players I have worked with at various clubs they would attest to that fact. Many players that played under me have come to me and said, 'coach thank you for all you did for us'. A lot of them landed bigger contracts after playing under me. A good example is Mike Eneramo. He spent one year with me at Lobi Stars. He came from nothing, nobody knew him. He went to Tunisia where he was the highest scorer in the season and one of the best players in Tunisian League. He now plays in Turkey. He was on holiday in Nigeria recently and he came to me and said coach never in my life will I forget you. That is enough for me. Nobody must give me money. I want to produce players that would make big careers in Europe or anywhere in the world including in Nigeria. That's what I enjoy doing.
Taye Taiwo, denied me
I was, however, disappointed at Taye Taiwo. He spent four years with me, two years at Niger Dock, one year at Gabros International and one year at Lobi Stars. But I was reading one of the sports newspapers, one full page on him and he doesn't remember my name anymore. He was asked how he began his football career and he said he started from Niger Dock Soccer Academy and it was a white man that coached them (he had forgotten my name).
As if that was not enough, one day my team, Kaduna United played a friendly match in Abuja and it happened that the Super Eagles came for training and met us on the pitch. Many of the players in the Super Eagles that played under me in the past all rushed to come and greet me, Mike Eneramo, Elderson Chiejile, Julius Akpala and so on. I noticed that Taye stayed back and I had to walk to him and said to him, 'Taye, what's the matter with you?' And he replied: 'Coach, you can see we want to train. Give your phone number to the Team Manager so that I can call you later. I said ok and I gave my phone number to the Team Manager but Taye never called me. Next time my goalkeeper at Kaduna United, Uche was going to the Super Eagles camp and I asked him to give my number to Taye and ask him to call me. The boy confirmed to me that he gave my number to Taye and he said he would call me but he never did till today. I feel very disappointed. I never ask for one kobo from players.
Never! But not to acknowledge the role I played in his career breakthrough, to me, is the height of ingratitude. I refuse to appreciate that. This was the same player that I arranged for him to go to Belgium from the Niger Dock Academy. While in Belgium, he played one match with Gent and another match with Club Bruggs. And he was crying that he wanted to go back to Nigeria. The man who sponsored his trip to Belgium, Mr Havaley, warned me never to allow him return to Niger Dock Soccer Academy. But when Taye came back I said to him no problem, I know what you can do. I will allow you to stay.
That was how he remained with me at Niger Dock until I took him to Gabros and later to Lobi Stars from where he made it big to France. And now he plays with a big team, AC Milan in Italy. If I had listened to Mr Havaley from Belgium and shut the door against him at Niger Dock, nobody would have known Taye Taiwo today. I saved his career. I took him to Gabros and he learned a lot under me. Every day I would tell him that's your position you must do this and that.
When Coach Christian Chukwu, my friend wanted to give him his first chance in the national team, he called me and said I have a problem because Celestine Babayaro and Ifeanyi Udeze are both injured can you tell me about this boy, Taye Taiwo. And I told him you can take him he will not disappoint you. That was his first match against South Africa, the Mandela Challenge. After that he was taken to the FIFA Under-20 World Cup by Siasia and he was voted the third best players after Lionnel Messi and John Mikel Obi. For that I'm very proud of him for his successful career, but I'm very disappointed the way he forgot my name.
My Aba chieftaincy title
After winning the league in my first year with Enyimba, everybody was very happy and every time I came to the stadium the fans would be shouting 'Mourinho! Mourinho!' Mourinho!. Then the Team Manager of Enyimba said to me 'We are going to celebrate you' We'll give you a chieftaincy title. I took that for a joke. But I was very surprised the day he took me to one traditional ruler in Aba and before I was ushered into his palace, I was asked to go down on my knees. They dressed me in Nigerian traditional attire and decorated me with beads and conferred me with a chieftaincy title of 'Lion that killed Elephant' (Odum gburu Enyi). It was a big honour for me as a white man to be so honoured in foreign land and I really appreciate it.