Photos From The Hennessy Artistry Unveling »'I Was Touched By Mirror Boy' – Genevieve Nnaji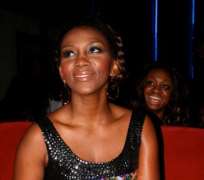 Actress Genevieve Nnaji has enumerated the UK, Ghana and Nigerian success of her recent movie, Mirror Boy, as a justification for her participation.
Speaking through the movie publicist, BigSam Media, the actress reveals that she was fascinated by the simplicity of the story of Mirror Boy and the determination of the producer and director, Obi Emelonye to do something 'special'.
"I was impressed with the way the writer spinned a whole lot around a simple story of mother and child and a spirit. It is told in such a way that you feel the three distinct characters. You feel the pain of a mother whose child is missing, you feel the trouble of an African boy born in the U.K now in search of an identity, and you feel the emotion of a reincarnated father who doesn't want his biological child lost in the world of 'missed identity'. It is the kind of story that touches you from the screen so I am not surprised at the success so far at the cinema', she explained.
Mirror Boy which has been at Nigerian cinemas for four weeks running is said to have grossed over N15 million, allegedly setting the enviable record of being the highest selling Nollywood movie in Ghana and the longest running movie by any African in UK cinema. The movie which was shot in Gambia features Genevieve Nnaji, Osita Iheme and a Gambian upcoming star Edward Kagutuzi.
The Mirror Boy is an enthralling journey as seen through the eyes of a London- born 12 year old African boy, Tijani. After a London street fight on 13th of June, in which a local boy is hurt, Tijan's mother decides to take him back their roots in Gambia.
On their arrival in Banjul, Tijan encounters a strange apparition – a boy smiling at him in a mirror and then vanishing. Seeing the same boy in a crowded street market the next day sets in motion a chain of events, with Tijan finding himself lost. While Tijan's panic-stricken mother struggles to find her son, Tijan is left alone in the company of the enigmatic Mirror Boy, seemingly visible to him only. A cathartic climax helps TIJANI to unravel the mystery of the MIRROR BOY. It also provides him with a rather mystical explanation for the way his life has cascaded from the 13th of June towards this inter-twined fate with a father he has never met.