'The road is far for Nollywood' -------------Adim Williams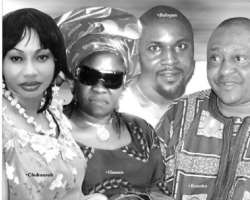 In Nollywood, Adim Williams needs no introduction. In this interview with Miriam Okonkwo, the versatile actor, director and writer speaks on what it takes to be... a star as well as what makes Nollywood thick.
What more about Adim Williams?
I am a happily married man with two kids, a boy and a girl. I come from a town called Akokwa in Idiato Local Government Area of Imo State. I'm a filmmaker. I am a director, a writer and of course a producer. I am the Vice-President of the Association of Movie Producers (Amp). I combine directing with writing. Of course, I produce once in a while. I can also count myself as one of the pioneers in Nollywood today.
I read Theatre Arts at the University of Calabar. But before then, I read English Language at the Institute of College of Education, Alvan Ikoku. Today, I am a film maker. I have been a film maker for 15years.
You have mentioned about four things you combine. But how do you balance them?
Like I said, I read Theatre Arts. But even before going to school to study, I studied writing. I wrote novels as a teenager. I wrote a number of novels. Some of them were at the process of being published by Ancients & Series in those days before it folded up. I have like three of my manuscripts, I dropped some of my manuscripts with Ancients & Series. I read Theatre Arts and I specialise in directing. But I happen to be a writer. I'm always writing. So it is easy for me to write and direct. Though it is not that easy. It is very tedious. Combining many things in an industry like ours is difficult. Combining them and coming out with quality things consistently is where the work lies. This is where the challenge is. But it has been a very good challenge. By God's grace, I am successful.
So you are a successful man?
By all standards, yes. I don't have so much money. But for someone who always have passion for Creative Arts and who writes novels as a teenager, such person will have more opportunities than those who just went to school to read Theatre Arts. And you go on the Internet and Google there is a lot about him. I think this gives a whole satisfaction. You could call it success. Because to me success is not just all about money. But my kids will not grow up tomorrow to say we didn't have a father or my father was nobody. No. It does not mean I keep so much money for them. But they have a name to work with, they have a name to fall back on. To me, that is a measure of success. Although there are still so much to achieve, so much to do. You know the road is still far for Nollywood. We still have a whole lot of aspirations, a whole lot of things to achieve. But if this is a step, it is a successful one.
Most of the times you are on location. When do you have quality time for your family?
Well, from day one my wife knew me as a film-maker. She knew me as a writer and a director. She used to follow me to location in those days. So she knows what it is like. Sometimes location becomes part of your home. You find a way to make it habitable for yourself. If you are waiting for the time when you will go home, you may not have the opportunity. So I don't own myself. I only own myself when I am doing my own job, when I am producing my own job. So you don't own yourself, you will be called upon when they need you on location and you have to be there. But when I find time to relax. I am a family man. I like to stay indoors and play with my family. So at home I am not a director. At home I am just any other person.
What does it take to become a producer?
A producer is a businessman. He is a chief management officer. The producer is the one who gathers the creative people - the director, actors, the script writers and all kinds of professionals. He owns the job or might be producing for somebody else. But in any case, his office is primarily managerial. He may or may not know so much about the film but if he knows about the film it is an advantage. But a man who must have control over everybody else and the film is the director. That is why they say a film is a director's film. The office of a director is sensitive. It is the most important office in the process of film-making. It is important because he is a man that has the last say over every creative element of production. Whatever he says is a law. Nobody argues about it.
So it needs a creative mind?
Yes. To be a director, you have to be extra-ordinarily creative. You have to be one level ahead of everybody else in terms of creativity. But if your knowledge, experience and creativity are in doubt, you can never come out with a good thing. If your cast and crew are better than you, there is a problem. There will be disorder because you are like an army general at the war front. So you can't be a good director if you are not creative. You can't be a good director if you can't manage people effectively. If a director is someone who controls creative people, hectic creative crazy people, you can imagine the kind of person he must be.
Why is it difficult for young artistes to penetrate the movie industry?
The problem is that the industry doesn't have what is called 'movincon' yet. A movincon is a motion picture. That would have been a platform for people to be able to know how to get into an industry. Like through friends, bills, all kinds of registrations. Over time people just have the impression that they just walk in and begin to do film. The industry is like all comers affairs. But by the time we have a standard structure, new people will know how to enter the industry. If you want to be a lawyer, there is a process. You cannot go to court and say give me a gown to wear. People used to walk into the industry and say 'I can act' and they will say 'okay, act'. But elsewhere it doesn't work that way.
But we're supposed to give people orientation. Let them understand what the business is all about. It is not about how you feel. The business has a way it feels about itself. You have to fit into the feeling. So you talk about orientation before you talk about training. I believe elsewhere too, it is not easy for young people to walk in because it is a private industry.What I mean is that it is an industry people buy its products. If I am making a film for you to buy, I have to use acts that you will appreciate. If I thrust any actor or actress on your face because the person is my sister or brother or girlfriend, you will be angry. If you are buying a film, you want to be sure it worths your money. So that is what branding is all about. The brand is the one that has recognisable stars. There are only three brands in the whole world - Hollywood, Bollywood and Nollywood. If you go to the market, those are the three films you will see, anywhere around the world. That is why it is not easy for new people to walk in because the film has to sell. It would have been easier for new people to walk in if we have cinema. The cinema is an avenue to bring new starts. I could pick up any kind of movie and gather people from my town who have potentials, great talents, train them over a period of six months and shoot a great film. If there is a cinema, by the time people go to watch it two or three times they know they have to buy it for their kids.
But if there is no cinema, I 'm running a risk shooting that movie. I will spend thrice the money I use in shooting and advertising it to be able to convince the people to buy it. There is no Emeka Ike, no Ramsey Noah, no Desmond Eliot, no Pete Edochie, no Genevieve Nnaji, no Omotola Jalade, no Mercy Johnson and others and you want them to buy it. E get as e go bi o. So that is the reality of the branded industry.
Why are you no longer acting?
I started as an actor. But at a time I decided to concentrate on the area I think I am strongest - directing and writing. I am not acting because you can't combine two, three major jobs at a time. It i not possible. Anybody that tries it will fail. I will go back to acting when I retire as a director. May be I will shoot one film a year. You cannot be directing full time and you want to make a great film, then you want to also act. That is too much an ambition.
Are you saying it is not possible to be acting and directing?
It is possible. But it is not advisable. The mind set of directing is different from that of acting. If you have seen me in some of the movies that I direct, you will not see me in more than two scenes. May be I cast somebody for that role and the person doesn't show up and I think it is something I can do effectively. Any time I feature in my movie, I am very very uncomfortable inwardly. You might think that I act well but inwardly it is not something I want to do. Because at that point in time I direct. (cum in ) you want to make it up to the standard. As a director, I am looking at the total beats while as an actor, I am looking at my character and my role.
What advice do you give the young artistes?
The young artists need to understand that becoming a star is not a 100-metre dash; it is a marathon. Like in any other business, one or two persons might be lucky to make it within a short run but that cannot be the standard. The standard anywhere in the world is that you have to pay your dues. How do you pay your dues? Some think it is sleeping around with the producers or directors that will make them become stars. It is a wrong way to go about it. That can give role quite alright but it can give you waka pass. Even if you sleep with one director and he makes you the lead, how many more directors are you going to sleep with that can get you lead roles all through. The arithmetic is that it never works.
Like I said, film-making is a serious business. The investor is investing millions of naira. So, my advice is that they have to first get the training. This is the only business in Nigeria where people just to walk into. To be a vourchnizer, you will be trained for a number of years. But a lot of people think that to be an actor you just walk into the industry. Somebody sits in his house and says 'what is acting? Is it not crying? I will cry'.
Training is critical. Unfortunately, we don't have enough institutions to train the people. A lot of the young aspiring actors do not understand that they need to invest something to become stars.