GOD HAS SCATTERED MY DAUGHTER'S ENEMIES-MERCY JOHNSON'S MUM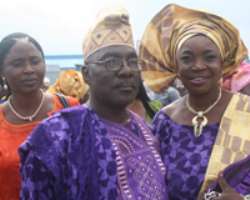 Expectedly, Mercy Johnson's Dad and Mum were elated and in ecstatic mood as the wedding held against all odds.
Here are what they said when we engaged them in a chat.
Mercy Johnson's Mum
what's the situation now
There would be no place for them. All the enemies of Odianosen and Mercy, like the Egyptians, have been overthrown.
They have gone… They have already entered the Red Sea (Mercy Johnson's dad cuts in ).
What was going on in your mind then? Did you at a time contemplate giving up?
No, I never gave up because my God is a God that answers prayers.
…. We didn't do anything negative (Mercy's dad).
He's unchangeable God. There is no impossibility with Him. He's the same God of today, yesterday and forever.
How would you describe Mercy, your daughter?
She's a wonderful girl. She's a girl that puts joy in my eyes, my heart and my face. She knows when I am angry. She knows when I am naked.
She knows when I am sick. She knows exactly what I need at any time.So; my God will always bless her.
What about Odi
He's a perfect man made for my family. A man that is so caring and humble.
What was your mind telling you the first day you met Odi?
I prayed and asked God to convince me if he was for my daughter. And God did.
How many children do you have?
I have four daughters and four boys.
So, what's your prayer for the couple?
My prayer for them is that goodness and mercy shall follow them all the days of their lives. And they will know no shame in the name of Jesus.
They will live above their enemies in the name of Jesus. They will always be the head and not the tail.
Mercy Johnson's Dad
How does it feel to see your daughter get married today?
Today is my most memorable day. It is one of my best days. It's just wonderful.
How did you feel with all the controversies before the wedding?
I am happy that the whole drama ended happily. As you can see, a positive result surfaced at last. My heart never shook for one day.
What do you wish the couple?
Happy home, many children and above all, peace and prosperity.
So, you were never apprehensive when your son's ex-wife threatened to stop the wedding?
Not for once. My mind was positive because Mercy has not done anything wrong.