'THERE IS HOPE FOR GOSPEL MUSIC IN NIGERIA'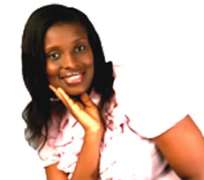 Imabong Martins
Imabong Martins used to be a marketing executive before delving into music. According to her, the talent for music was a discovery by one of her teachers in school.
Her recent album, I will choose you, is one of the hits in the gospel music market. 'The purpose is to create serenity for people to connect with God. I generally do several kinds of songs but this recent approach is the direction God gave me for the album,' she quips.
To the mother of two, gospel music is all-encompassing. 'It appeals to the heart of man in a very passionate and emotional way. I see the positive transformation gospel music brings to people and I am fulfilled supporting that transformation.
'However, we still have a long way to go in terms of investment, quality of output and developing talents. There are a lot of people here who can really harness their musical talent if they are in the right environment. I think this corridor should be further explored. We also need to improve our quality of output to make our work appreciable to today's consuming public and to the rest of the world.'
She shares a very bright vision for gospel music. 'I see more artistes and more talents. I have interacted with some young talents and I see people who are not just waiting for things to happen, they want to learn and get the recognition at both the local and international level. There is great hope for the gospel industry in Nigeria,' she concludes.