I See Sexual Harassment As One Of The Challenges An Actress Faces ------- Esther Johnson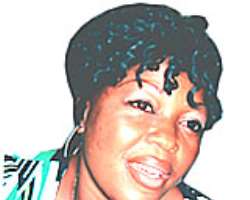 Esther Johnson, an upcoming actress, spoke, recently, with GBENGA OLUMIDE about her life, career, expectations and other sundry issues. Excerpts:
HOW is life generally?
It's okay; life is okay.
Tell me about growing up?
My growing up was okay. I grew up with my family. It was very okay. I don't recall having problems while growing up.
Your background?
I'm from a family of five. I happen to be the first daughter. I am from Abia State, Abriba precisely, but I was born in Cameroun and brought up in Ibadan. I spent half of my being on earth in Ibadan. I schooled in Ibadan up to the secondary level.
What about higher institution?
Then, no. Though, I'm almost in there now; I didn't go to university. I attended Aviation School to study Ticket and Reservation.
You studied Ticket and Reservation, why acting?
Acting is what I love doing and I can say it was right from my childhood. I loved acting, even then in primary school. I acted in stage plays in my church. So as I grew up, my love for it grew stronger.
Apart from the interest you have for it, who introduced you to it?
I used to have a friend when I was in Kwara. So ,being a model then, (because I partook in some sort of soap opera, so the guy just told me then, "Esther, you are wasting this talent, why don't you go for acting and make it your primary or secondary job or whatever?"I did not take him seriously then, but due to the guy's persistence, I had to. Then, I joined Muyiwa Muhad Entertainment, a group owned by Muyiwa Adegoke. He was the one who trained me.
What year did you start acting?
I started in year 2000.
Any production of your own?
Not yet.
How many films have you featured in?
I've featured in so many films like Igi Oyin Ikan Oun Aye Somida, Ogo Mi, Soki Sounbola, Se Ife Ni, Asewo To Re America . I played little Iyabo Oko, Oro Ahon and many others that I can't even remember now.
Can you tell us something about your private life?
No.
Why?
I just like to keep that to myself.
Are you married?
Not yet, but I'm not searching.
Who is that lucky man?
I don't want to discuss it because he's not somebody that likes publicity, whatsoever.
Is he an actor?
No, he's not an actor.
Where is he?
(Smiles) He's in Lagos.
You are in Ibadan and he's in Lagos. How do you cope?
I always see him; I see him anytime I want to.
Now, when you were going into acting, was there any resistance from your parents?
Anyway, by the time I joined acting, my parents were already late.
What is your ideal man like?
It's still my private life, so I don't want to discuss it.
What does it cost you to be given a role?
It doesn't really cost me anything. I just believe it's due to, maybe, my acting prowess. They just give me a role and I play it.
So , you have not been sexually harassed before?
For sure, that happens everywhere. I see it as one of the challenges one has to face. Even if I'm not on the field, if I'm outside the field, I will still be harassed sexually. A lot also depends on me.
Now, how do you cope with this?
I cope by not fighting them, not embarrassing them. It's a matter of choice and it depends on how you handle it. If you like trying to do that kind of a thing, it becomes a problem. But when you make them realise that you can't do it for some genuine reasons, they are not mad, they will leave you to your choice.
What are your greatest desires?
One of my greatest desires is to become one of the famous stars of Nollywood. I want to be known all over the world as one of the most famous actresses.
Who is your role model?
Joke Silva. I love her. She has these in-built qualities. I like everything about her.
What is your colour?
Pink.
How old are you now?
(Laughs), I'm above 20.
When are you going to the altar?
That's my private life. I am not discussing it. When the time comes, you will know.
Does your fiance like the job you are doing?
Initially, he did not because he was concerned about sexual harassment. But, I believe he likes it now, because he trusts me. He knows it's what I like and he supports me.
But if he asks you to quit, what will you do?
I don't think I would like to quit but at the same time, I want a happy home and I want to believe if he's not being selfish, he would not want me to quit because he knows I derive happiness from doing it. If he loves me, he must love my happiness. He would not want me to quit what I'm doing that makes me happy. But if he asks me to quit and within my own heart I think I can cope, then I will quit but I don't think I want to quit.
Aside from acting, what else do you do?
I'm into buying and selling. I have a shop where I sell wine, juice, table water etc.
What are the challenges you've come across in the course of your career?
A lot of challenges. For instance, I could be asked to smoke on set and I'm not a smoker, but because it's my job, I have to do it. Or I'm asked to play the role of a prostitute, I have to. These are some of the challenges. Any role you are given, you have to do it perfectly.
How fulfilled are you?
I would say, in anything a person is doing, if he derives happiness, he should be fulfilled. I'm not fulfilled yet because I'm just an upcoming actress. I think when I get there, I should be fulfilled. But then, I'm the type that wants to do this, wants to do that. I don't want to be idle when I'm not on set. I'm not the lazy type. So, I want to do everything that I find myself doing. That's why I opened a shop. Acting is okay, at least, it puts food on my table. But then, when I'm not on set, will I be sleeping at home? No. I have to start doing something else.
How much do you get paid for a role?
It all depends on the producer, so it's not a fixed price.
What's the range?
(Smiles) Anyway, thank God, where I am today, at least I can say I'm a little bit okay because when I first started, I had acted in a movie and after the whole thing, it was "Esther thank you so much, thanks for coming." And I have acted a movie that after everything, it was like, take this N1,000 for your transport. I love doing it, so I believe my continual persistence on it, one day, will be able to fetch me like N5 million, in a movie. I think gradually, Yoruba movies are getting to that level.
How much do you get paid, as a star, in Yoruba movies?
I can't really say but I think some people are being paid N200,000 and above.
But some people said producers sleep with those of you who are ladies before giving a role, It's possible?
If you want to use me in a role and you believe I won't give Esther this role until I sleep with her and I fall for it, then it's my fault. It means I want to use what I have to get what I want, which I don't think is by force. You may ask me out and I say no, then the worst that would happen is that you don't give me a role, fine, somebody else would do. So, why should I now use what I have to get what I want? But some of our ladies do it.
When are you coming out with your own film?
Very soon, very very soon.
What i s your idea of marriage, because some people believe that once you are okay, once you can pay your bills, you don't need a man in your life? What do you think of marriage?
If I say marriage is not okay, that means I'm saying that the Bible is not complete. The Bible is complete. Marriage is very sweet; it makes you fulfilled. I mean, the life of a spinster is a life of loneliness. You are not complete when you don't have a man.
Are you born-again?
What do you mean by born again?
Are you a Christian?
Or course, I am.
You talked about featuring in Asewo To Re America when was that?
That should be two years ago.
How old were you when you got your first movie role?
I was in my late 20s.
Can you act nude?
Completely nude? No.
Can you act half naked?
Half naked still depends on the type of 'half 'you mean.
What is the "craziest" extent you can go in exposing your body?
For sure, I can't expose my body to the extent of going against the Bible.
Are you romantic?
I don't know.
On a regular day, would you dress like this?
With this top, no.
But most of you like to dress like this...
It's a matter of choice. There is nothing in a person dressing like this if the person likes it that way.
What do you have for upcoming artistes?
I advise them to be focused because if you want to do something and you feel like you want to do it not just for the fun of it, you believe you want to pursue it as a career, then you have to be focused not minding the obstacles. If you are focused you will get there.