Vandals Invade Delta Govt. House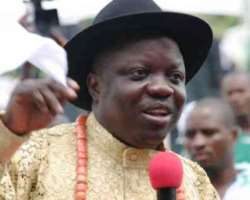 Delta state governor, Dr. Emmanuel Uduaghan has confirmed the inept nature of security operatives and heavy security lapse in the state, owing to the presence of alleged vandals and thieves operating within the state government house premises in
Asaba, the state capital.
  The governor's confirmation which came on the heels of recent revelations and reports on the massive vandalization of the commissioners' quarters located within the government house premises came as a shock to Deltans, who pondered on where the safety of the common citizens lie.
Uduaghan, who revealed that the report of the incident has been brought to his notice, lamented the spate of vandalism and theft but acknowledged that 'it has become a recurring decimal in the state. He however said he has ordered an investigation into the matter.
It could be recalled that the quarters of former commissioners in the state, sacked by Uduaghan after the lapse of his first tenure in office, recently witnessed a load of vandalism after they had taken away their personal belongings and effects.
Findings by Huhuonline.com http://Huhuonline.com/ stated that the police unit attached to the state government house has begun investigation into the matter.
A Government House source revealed that some personal aides to some of the former commissioners have been invited by the police for interrogation, adding that the former commissioners could not be invited because of the state governor's personal intervention.
Another source said that the unfortunate incident attracted the presence of the Secretary to the State Government (SSG), Comrade Ovuzuorie Macauley, who is said to have wept bitterly over the spate of damage caused by vandals.
Although, Macauley had refused to mention a word on the incident, the state governor, Dr. Emmanuel Uduaghan bemused Deltans when he confirmed the incident and gave an expose on the ugly situation but exempted the former commissioners of any fault or involvement.
At a press briefing in Government House, Thursday, August 25, 2011 to mark the 20 th Anniversary of the creation of Delta state, Governor Uduaghan said, 'In this case, the commissioners carefully returned the keys. There are two things, either people come from outside to come and do it or people from the ministries are involved.
'If you look at issues of vandalism, except you are able to catch somebody in the act, you cannot really say who is doing it; it is difficult to know the actual vandal. We really need to investigate properly. It is also possible that some of our friends from outside do come into the government house to operate.'