Lari Williams: A word with Theatre La Masque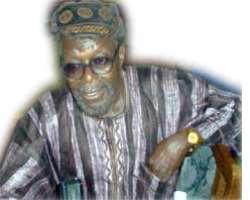 Fellow Actors, Practitioners of the "Giving profession", Entertainers, "Members of the Great Service profession", Congratulations!!
Entertainers are known all over the country but own nothing in the country. Not even the right to a piece of the national cake at retirement. They serve as laughter makers, therapeutically saving the nation from 'stress epidemic', meanwhile these 'life-savers' and 'laughter servers' are walking the streets and crying-in-the-rain, so no one can see their tears. They remain dedicated and by His grace, blessed, and more importantly they are brave.
They walk the lonely road condemned by their homes, ridiculed by the society they heal, and ostracized by the government they serve, yet they remain loyal in their faith and service, waxing stronger by the day. They neither retire nor flay into frustration. Some people may be brave enough to kill, steal, fight or die, but are they brave enough to serve? Artists are!
They brave it to the end knowing full well that there are no Retirement Benefits waiting to cushion their old age. They lose their bearings from their relations as they have nothing to share with them. After all, the laughter they give is for the general public not their private family property.
Their counterparts in sports now get regular handshakes from the number one citizen, some got houses and streets named after them. Sports has paid better so far.
To say artists is rather broad based, here we are talking of the actor getting the National Honours Award (MFR) Member of the Order of the Federal Republic. I bow as the first actor recipient of the award, in that category since 1963 when the Honours Awards was established to honor deserving citizens who have contributed to the development and progress of the country in any field of human endeavour, no Nigerian actor has been so highly honoured, and I am truly grateful. It is hard to be humble when one is so highly acknowledged for a service.
I am the first elected President of the Actors Guild of Nigeria, and Chairman of the Guilds Formation Committee.
Performed at FESTAC 77 as member of the British contingent (London zone), I hold a record of appearances on the Nigerian TV-'SOAPS' since FESTAC 77 when I returned to Nigeria from U.K., having acted in no less than 17 Soaps including the first Nigerian soap-The Village Headmaster, down to the current- "Heavens Gate" sponsored by the Redeemed Church of God and Ndudi Nwabueze's "Living for Tomorrow".
I was in the very first Nigerian Home Video "The Witch Doctor of the living Dead" made by Paul Enonchong in 1986. And I went on to act in well over a dozen others including "Black Powder, Blood Money II", Amaka Igwe's "Forever" and the Late Kenneth Egbunna's. "The Surjourn"; Oladele's "Omen of Love" etc, and recently Teco Bensons "Mission to Nowwhere". I am the first and only Nigerian Actor so far to perform on the top of Zuma Rock.
I must confess that was the most frightening experience of my career. That is when the actor's imagination went wild. When the helicopter dropped me and went to refuel for close to an hour, strange human voices reached me up there 1,200ft high, I did not know how or where they came from. That was not nearly as frightening as the thought that a large snake could come from under the rocks; what would be my option get swallowed by a snake or fly off 1,200 ft to a brave staker? I had no insurance, no security, all for the fee of N 300 (Three Hundred Naira) in 1983.
I have a phobia for snakes anyway, so the size would not have been the deciding factor. A snake- any size would have been disastrous. But I know snakes are scared by human voices. I got religious and loud, alone on Zuma Rock I shouted a prayer, as an Anglican I sang hymn 444, recited psalm 23 repeatedly till I heard the sound of the Helicopter returning.
I went flat on my face thanking God and avoiding the Helicopter blowing me off as the flying boat hovered over and around the rock, I was directed to move around as if reciting Mamman Vatsa's poems. I did. I was jumping for joy of being alive and shouting thought like "What have I done so far?". My father was a UAC Accounts Clerk and a British Soldier, I am an actor and was a Boy Scout, British Soldier! "Boy Scout". Then I remembered very well the motto is, "Be Prepared!" No I am not prepared to die ! I shouted.
Well, I did not go, I survived, and the Helicopter came and filmed me reading Mamman Valsa's Poems (Bless His soul) Later for sound.
Yes I survived to write books, (Plays and Poems) to Lecture in Schools and Universities,-the two universities Lagos (UNILAG Centre for Cultural Studies) and LASU (Dept. of Theatre Arts) and now the 3rd UNICAL (Dept. of Theatre Arts) Run a Theatre Repertory Company LARI WILLIAMS PLAY HOUSE and a Percussion group YALA BAND for over 20 years to create my poetry music.
Alongside all, I have kept a Newspaper column and still keep it going in The Vanguard newspapers "STAGE AND SCREEN" -an overview on Nigerian Arts. I recently published 128 Poems in a collection titled HEARTLINES on Drumcall. And a Biblical exposë titled "A DRUMCALL FOR HEROD".
I don't believe Sir John Guilgurd did more neither did the great Lord Olivier to be knighted by the Queen of England.
Well, there again I have not done badly. I earned another first as the first actor to earn a Chieftaincy from acting – The Obi C. S. Osagie III traditional ruler of Akumazi Kingdom in his foresight and wisdom bestowed on me the title
"Omenka One" of Akumazi Kingdom. After watching a serial "Living for Tomorrow", produced by Ndudi Nwabueze in which I was the lead actor . "Omenka" means brilliant artist/craftman. Along side the Late FELA ANIKULAPO KUTI, I got the BABA award from the Kuboye's Extended Family for acting. But fellow Artists, particularly young actors here present, I wish to say the National Honours Award is an acceptance of our profession into the nations recognition file.
We can now line up along with our countrymen and women of honour and share the rights to be remunerated even while we are "resting", We can now ask for Arts Endowment fund, to encourage the development of talents and the industry, especially now our government is interested in our skills. As plants grow on from the soil, so films grow from stage.
Let's build a solid stage and the industry will grow. One of America's outstanding Presidents Ronald Reagan was an actor He was in films with one of us Nigeria's pioneer professional actor- Orlando Martins. They we e actors together; he later became America's President while Orlando came home to wait for death. If now we are being accorded National Honours Awards and a Presidential Handshakes, it is a giant leap forward, indeed, a world away from the days when actors were only allowed "The beggars Licence" to perform for crumbs.
The Presidential Handshake should open doors for proven actors to earn reasonable fees, and the law of the nation should enforce each an every producer to include at least two such actors in every movie.
Afterall, America has such law, to include the Blackman in every movie. Indeed it will curb the drop in quality and the unhealthy proliferation of sub standard Home Movies. It is true that "who pays the piper dictates the tune", let the government invest in this nationwide industry and show more interest in its growth.
Private individual-actors and producers established and introduced professionalism and made show business of the 'acting' profession. It was received with joyful smiles and paid with laughter. The motor spare parts dealers capitalized in the industry and made a trade and a 'bang' of it, what with the proliferation of Home videos!
Written by Larri Williams