PRINCE ODIANOSEN,ESTRANGED WIFE,LOVELY OKOGIE FINALLY LOST THE BATTLE TO MERCY JOHNSON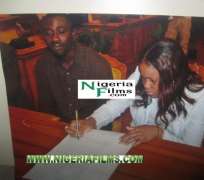 Contrary to speculations that star Nollywood actress, Mercy Johnson has called off her August 27th, 2011 marriage to her fiancé, Edo-born Prince, Odianosen Okojie, the marriage, we gathered, is going on as planned.
The development followed the messy revelation by a Canadian-based woman, Lovely Okojie, who claimed she is still married to the screen diva's husband-to-be, Prince Okojie.
Ever since the news broke, the entertainment world has been awash with different headlines on the marriage controversy, and it seems never ending.
In a recent interview, Okojie said ; My estranged wife, Lovely purpose is just to split Mercy and myself which I don't think is possible. Mercy and I are waxing stronger by the day.
Myself and Mercy, are still together, our love is still waxing stronger.
When reminded that it's only a few days to the marriage earlier billed for the Christ Embassy in Lagos, Odianosen says that the marriage is not holding in any church again."I don't wanna go to church again, I don't wanna say anything about the church.
In February, my brother had his wedding in lagos.Mercy and I wore the same attire and we posted it on Facebook; Lovely commented by saying, "we shall see".
But the question is why wait 2 weeks to my wedding for all of these.
Despite all his estranged wife's vituperations, Okojie said he would not allow her wicked nature to affect the care and love he has for his kids.
One very important revelation by Odianosen is his remark that Mercy was distraught with the whole controversy."She's hurt because she's human but at this point, we need to be strong for each other."
Asked if the marriage plans was still on the cards, Odianosen says the marriage is going on as planned.
"Mercy and I are in love. I love her so much and she reciprocates that to me."
Meanwhile further findings by Nollywoodgists.com reveals that while popular comedian Ayo Makun a.k.a AY of the famous TV Show "Ay Live" is billed to be the Master of Ceremony of the event, Ghanaian movie star, Yvonne Nelson is the Chief bridesmaid and Kenneth Kadiri is the best man.
Reception at 10 Degree Event Centre.
Traditional wedding taking place at Iyana Iba, an outskirt of Lagos residence of the Johnsons on Friday 26th August amidst tight security.
click the link below to go to...
LOVELY OKOJIE REACTS TO PRINCE ODI'S INTERVIEW,HE IS A BIG LIAR.
EXCLUSIVE! MERCY JOHNSON WEDDING PLANS SUFFERS SET BACK AS PRINCE ODIANOSEN'S WIFE SHOWS UP WITH KIDS.
MERCY JOHNSON IN DISTRESS,RAN TO MOUNTAIN OF FIRE MINISTRIES TO SEEK FOR DIVINE INTERVENTION.
WEDDING: MERCY JOHNSON PICKS AUGUST DATE AND DETAILS OF THE SUPERLATIVE WEDDING.
EXCLUSIVE;GAMEOVER FOR MERCY JOHNSON AS FIANCE'S WIFE CAME UP WITH MARRIAGE CERTIFICATE.