Abike Dabiri attacks Nollywood…Says our films lack technical depths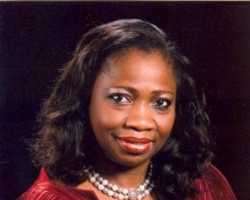 Ace broadcaster and member of the Federal House of Representatives, Mrs Abike Dabiri-Erewa, shocked the press and industry operators alike last week, when she took on Nollywood.
She stated that most of the movies churned out of the industry lacked technical depths, especially when the films are compared to other films produced in the developed countries.
Erewa who was one of the special guests at a press parley to announce the commencement of this year's film making workshop organised by the Del-York International in partnership with the New York Film Academy, NYFA, stated that film making was all about quality.
" The capacity, the technical quality is what we are talking about. All of us here know that we have problem with the quality of our films."
While commending the initiative, the House member expressed hope that the collaboration between Del- York and NYFA, would help to solve the problem of technical quality thereby improving the quality of film productions in Nigeria. According to her, the initiative would empower and create numerous career opportunities for Nigerians.
She however, used the occasion to call on the state governments, federal ministries, particularly, the Ministry of Youths and Sports Development and other corporate organisations and individuals to support one or two talents by paying their tuition during the training.
The four-week film making training workshop kicked off, on Monday, August 15 through September 10, 2011 at the newly renovated Apata Memorial School, Isolo. It is the second annual edition of a five-year collaboration between the two organisations.
It will be recalled that the inaugural training program was held in March 2010, when Del-York and NYFA successfully hosted and trained 400 African students in Abuja, with supports from the Rivers State Government and the Niger Delta Development Commission. Out of these graduates, 122 are now gainfully employed in the entertainment sector.
The Managing Director/CEO of Del-York International, Mr Linus Idahosa said the face of film making in Africa was taking a new shape, as there is the need for aspiring filmmakers to be better equipped with the knowledge of telling the African story beautifully imperative