Sexually harass girls, Why should I? — Iyke Odife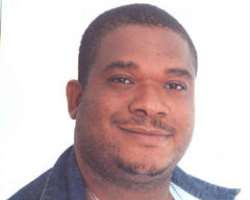 Iyke Odife is a movie director and producer with experience spanning over a decade. In this chat with http://nollywoodgists.com, this Anambra born producer / director speaks on his childhood, his career ands his love life among other things. Enjoy; How did you get into the movie making industry?
Actually I went to a seminary school and while there, I was close to becoming a priest. Then during one of my holidays I went with a friend of mine to a movie set and one thing led to the other and I got a role in that movie titled Circle of Doom. And before I knew it, I was so enveloped in it that I wanted nothing else to do than making movies.
For how long have you been making movies?
I started acting in 1998, three years later I went into movie production, and then about four years ago I began directing. It's been 10 years in general.
Which one was your fist movie production?
My first movie as a producer was Because of Money in 2001. I was actually an associate producer in it.
What prompted you into the movie industry?
Living in Bondage. I was impressed with that movie so much that I saw it like a hundred times after. But the admiration was inept till I went into the Circle of Doom set.
How has the terrain been?
Well I must say that it hasn't been that smooth before now. It was a tough journey but it all adds up to our experience and the better person that I am today. I thank God.
What kind of challenges have you faced in the industry?
There have been a lot of challenges but the most terrible of them all was when one of my crew members died on my set. I was shooting a movie title "I Need a Man" he was a production assistant. it was so terrible an ordeal for me.
Which of your movies do you find the most challenging?
All of my movies are challenging in their different ways, but the most challenging should be Cease Fire. I worked with a lot of kids. I had to groom and rehearse with them for two whole weeks before the production proper. It's not been released though
So what is your perception of the Nigeria movie industry, are they meeting up to standard?
We are trying, but if we can get better equipments and good support from the Government we will go very far.
If you are in a position to change something in that industry what would that be?
Well, I'd love to bring back good morals into the industry. People outside the movie industry see it as a place filled with unserious and wayward people, but it's not true.
How do you feel behind my camera and not being seen by your fans?
For me I'm fulfilled being behind the camera.
Are you married?
No, I'm not
Who is your kind of woman?
I love reserved girls, well mannered and God fearing.
What's your view on sexual harassment in the industry?
Sexual harassment is in every sector not just the movie industry, and most times the girls call for it
As a producer or director have you harassed anyone sexually?
Why should I? I came into the industry as an actor so I know how painful it can be when you know you have a burning talent inside of you then some man wants your body before he can give you that opportunity. I'll never be a party to it.
As a movie maker what will you consider to be a good movie?
Any good plot that is well interpreted in picture is a good movie
How many movies have you produced and directed?
I've produced nineteen movies and directed about twenty movies.
Apart from directing and producing, what else do you do?
I invest in shares