MY UNIQUE ENCOUNTER WITH GOD -STELLA MONYE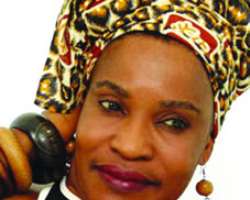 Popular singer and one of Nigeria's frontline female artistes, Stella Monye, has said her new encounter with God would henceforth make her use her works to serve Him. Monye, who is popularly referred to as 'Her Excellency' by her professional colleagues, recently lost her mother to cancer of the uterus at age 80.
Her mother, Mrs. Alice Monye, lived with her in the last three years following her ailing health and the need for her to be attended to.
Mrs. Monye eventually died and is now survived by her children and grandchildren, including Stella, who is the fourth child and first girl of the family. While burial arrangements are being made by the family, Stella told Daily Sun recently that she would give her mother a befitting burial, having played a great role in her life and for being the person through whom she encountered God.
Meanwhile, Stella disclosed that her monthly live show, De Huk-Up would soon be on television . She hinted that henceforth, the musical gig would be a combination of music and talk shows that are seen internationally but Africa-based.
Explaining how she met God, Stella, who confessed that she has attended many churches in Nigeria, including the big and famous ones said ''On that fateful afternoon, my eldest brother, who left Customs and Excise for pastoral school, put a call across to me that I should join him in a church that was within the vicinity of his home.
At first, I was reluctant because I was not quite prepared for any outing that afternoon because I had another agenda. But I agreed in principle to attend the small church called, The Deeper Faith Evangelical Mission. In the end, it was agreed that a deliverance was to be conducted on me which I agreed to, although I was not too convinced I wanted to go through it. But it was conducted and I fell under anointing for two days. The pastor was invited to pray for me and ever since then, I have been falling under anointing, particularly whenever I am in the presence of the Lord.''
Since this encounter, Monye said she has been studying the Bible all over again under the tutelage of Pastor Alozie Chinedu. She has equally taken up various activities in the church. Her words: 'It's been a wonderful feeling for me and I would use this opportunity to advise all women of different ages – single or married – to undergo test for cancer of the uterus. The ailment is fast killing people right now. In fact, a friend of mine based in Abuja just lost his 38-year old wife to cancer of the uterus. The attention is fast shifting from breast cancer to cancer of the uterus''
Recalling the good old days, Stella said of how she used to be a tomboy while growing up in Lagos and Ibadan. She hinted further that growing up for her was so exciting and interesting and that today, she is the last female singer of her generation that is still very active. Said she: ''Our era was so bountiful lyrically and musically. We are the bridge between the very old and the very new, and music is a cycle that rotates in terms of melody and creativity.''
On what inspires her, Stella said nature and God's gift to man usually lured her to sing. She added that her popular album, Mr. Right, in which she sang, Oko Mi Ye, was actually a plea from a woman to her man to stand by her. But her recent album, Outburst, is a project that is yet to be fully accomplished. She said she had used the album to speak about the same message in different forms and that, 'it's a special project for girls, ladies and woman…my message is usually one subject that keeps unfolding.''
Asked about other projects outside music, Stella was quick to say: 'I could be confused for the rest of my life, but thank God for ingenuity. My strength lies in being able to weave things together and keep going without breaking. I am also a very natural person and this has helped me a great deal. I hardly have time for mundane things, but I always concentrate on empowerment projects for girls and women. No woman born of a woman should turn herself into a sex object and thereby suffer indignity.''