I Don't Want To Combine Pregnancy And Education Chika Ike Ebireri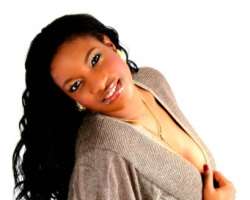 If beauty is the only criteria for being successful in the Nigerian movie industry, there is no doubt that Chika Ike Ebireri, would rank as one of the most successful actresses.
However, the sultry actress, who hails from Ekwuluobia, Umuchiana village in Anambra State, is doing well for herself in Nollywood by other means.
"If I didn't have what it takes, I would have been kicked out of Nollywood many years ago. It's more than a pretty face, I believe being a movie star has got a lot to do with carriage, diction and, most importantly, the ability to accurately interpret your roles and lines without hassles.
"I've been able to convince the audience that I have what it takes to be here and stay around for more years not because of my looks but basically my abilities, talent and understanding of the job," she said.
How does the chocolate skinned actress cope with sexual advances from men?
"It's not a hidden fact that every man wants every girl irrespective of being a star or not. For me, I know where to draw the line, I'm a very blunt person and I say things just the way they are without fear or favour. I know where to draw the line and make them know their boundaries at all times," Chika said.
What if they persist?
"You just let them know politely and they would oblige because they are not goats and when you tell them time without number that you are married and not available, they would understand and let you be. I'm not angry that it's happening but you take your stand by letting them know that you are not available," she said with a tone of finality.
Although Chika has been married for some years now, many have wondered why she has not started raising a family.
"I don't have a baby at the moment but, hopefully, I would have one someday because it's the joy of every woman and family. Right now, you know I am joggling too many things. I believe there's time for everything and maybe when I get out of school, I would start planning my family. I'm not delaying the baby but it should be known that life is in stages and phases. Right now, I don't think I would want to combine being pregnant with my education; it would be hectic, but very soon, I would start planning my family."
So, how challenging is it running a restaurant, shuttling between locations and classes at the Kinetics and Health Education Department of the University of Lagos while maintaining a good home?
Her response: "It's really challenging. The (stress) of attending lectures, moving to locations for a production is not the easiest experience at all but I believe it's just the grace of God that has been seeing me through. Aside this, I just have to do everything to make sure there isn't any lapse of any sort.
"I've been coping like every other student. I'm in school to read and get a degree and I don't get any preferential treatment. I come to school, get lectures, do tests, exams and just do things like every other student. I am in my final year and would be rounding off before the mid of this year God willing."
How correct can one be, if Chika is tagged one of the richest actresses judging from her acting fees?
"I won't tell you what my fee is. The thing is that we are paid well, but it could be better because everybody wants to make more money and so, it's good but could be better," was her response.
When last year, Chika called friends and colleagues to the opening of her classy and cozy restaurant in the Akowonjo, Egbeda area of Lagos, many wondered why she diversified into the hospitality business despite having her hands full with movie scripts.
"I have had a passion for cooking since I was a child and I love experimenting with foods, so, I just thought to myself 'why don't I just do this in a bigger form since it's what I like, she said, adding, "catering has always been in my mum's family. I don't cook in the restaurant; I cook for my husband alone!
"I could only put in one or two things or words for the chef; I could give my ideas about what to cook or how to go about it but can't cook in the restaurant because I don't even have the time."
What then is Chika's take on Nollywood?
"Those that say Nollywood is getting worse, I don't know what they mean or the idea or opinion that they have. For me, Nollywood is growing tremendously compared to what we used to have before now in terms of quality of filmmaking.
"And I've told people to stop comparing Nollywood with Hollywood because the thing is that we are not on the same wavelength. We are moving fast and we have now started shooting on 35mm when they have been doing that many years back. But no doubt, we are improving; doing very well but there is still room for more."
How would the lovely actress, who is touted to have come from a family of entertainersher elder brother and sisters are models, while her younger brother is a dancerdescribe her person in just a few words?
"I'm just the girl next door that you can always talk to anytime. I'm very open-minded, blunt in talking and fun to be with but most importantly godly."
Born into a family of six, Chika is the fourth child and third girl. She schooled in Lagos before taking up acting five years ago after being a model for a few years. The human kinetic and health education final year student of the University of Lagos made her mark after she got a breakthrough in the movie Blessed Child. She started out as an extra in a Chico Ejiro's Sweet Love.
Since then she has not looked back.
Hardwork has really paid off for her, as she was once quoted to have said she doesn't believe in going to bed with producers or directors to get a role.
Some of the flicks under Chika's belt are Paradise, Mirror of Beauty, Soul Engagement, Emotional Blackmail, Wisdom of God, Blessed Child and Power of Beauty.