TAIYE TAIWO IS NIGERIA'S HIGHEST PAID FOOTBALLER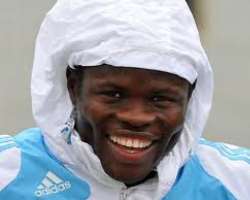 The talk of the world right now is the story of how Taye Taiwo became the highest paid footballer in Nigeria's firmament.
The salaries of several Nigerian soccer players were checked only to see that Taye earns more than all of them.
Taye moved from Olympic Marseille a few months ago and got a big offer of over N18m weekly, 350,000 pounds, that is N73m monthly.
In that case Taye earns more than Osaze whose salary was improved from about N6m weekly to N11m weekly.
In the next three years, Taye would have earned a whooping N3bn not inclusive of 13% tax.
After Taye comes Chelsea star Mikel Obi who gulps N16m weekly just as Osaze and Nsofor who earn less than him.