AT 70, EDDIE UGBOMA LAUNCHES BOOK ON FILMMAKING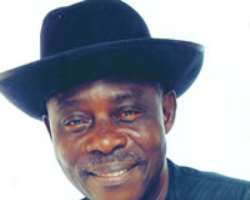 Ugboma
For Eddie Ugboma, the motion picture industry is one of the greatest revenue earners in America. But in Nigeria, the sector is yet to be fully tapped because government has not developed a policy to harness the abundant opportunities from film and thus create more jobs for the youths outside oil and gas.
These were the highpoints of a recent gathering of young and older practitioners of Nollywood and the media in honour of one of their own in Lagos. The practitioners assembled for the 70th birthday anniversary of one of the country's foremost filmmakers and former Chairman of Nigeria Film Corporation (NFC), Chief Eddie Ugboma.
Held at the cinema hall of National Theatre, Iganmu, the event featured a public lecture and the launch of a booklet entitled Chief Eddie Ugbomah Films at 70. The occasion was graced by many dignitaries in private and public lives, including Minister of Culture, Tourism and National Orientation, Chief Edem Duke, who made a stop over while on an official engagement in Lagos.
The booklet which is targeted at students of theatre, creative and visual arts is also meant for cinematography departments of Nigeria's Universities, Polytechnics and Colleges of Education; with a central focus on practical steps to becoming a successful filmmaker.
Meanwhile, the book, which was described as an artistic and box office success, has sold out to real sector of the media industry. According to the author, 'Steve Ojo of Galaxy Television, High Chief Raymond Dokpesi, Chairman of African Independent Television (AIT) and Bisi Lawrence have ordered copies of the book in large quantities.'
In his review of the book, Jimi Odumosu recalled how he met Ugbomah in 1976 while serving as a youth corps member at the Nigeria Television Authority after his studies abroad. He noted that the author was an irrepressible fellow, pointing out that a man's existence on earth was incomplete, if he passed away without leaving an impression behind for coming generations to learn.
Odumosu informed the audience that the booklet was apt, coming at a period when Nigeria could boast of a growing body of writers, producers, directors, cinematographers and other numerous practitioners in the creative sector. He added that both young and old stand the chance of learning from the author's lifetime achievements and fun-filled adventures.
While commending the author's efforts, Odumosu said: 'Film production in Nigeria is like war and Eddie Ugbomah practically lives in the war zone everyday of his life.'
He assured the reader that in the pages of the booklet were some of the most frank and relevant memories of a man's journey through life. 'Watch out for a full dose of Ugboma's special style of language, he noted,' adding that the author spoke and wrote in a distinctive, peculiar style, pointing out that the booklet contained the vintage, inscrutable Eddie Ugbomah who is extremely stubborn, un-compromising, anti-establishment, outspoken, non-compromising and frank even at 70.
Describing the booklet as being very inspiring, Odumosu hinted that it also portrayed life and times of the author from youth, his sojourn in Europe and America. Others were his movie exploits, antics with women and friends and family tales, which included three divorce cases as well as his days at the Nigerian Copyright Council (NCC) where he fought battles with inept and corrupt civil servants.
In a lecture entitled: The Importance of Hall of Fame for Moviemakers in a Developing Country, Mr. Obafemi Lasode, former President of Performing Musicians Association of Nigeria (PMAN), defined Hall of Fame as a type of attraction established for any field of endeavor to honour individuals who had excelled.
He explained that fame had been redefined over the years from its original meaning of renown to more common type of celebrity, adding that in some cases, these Halls of Fame consisted of actual halls or museums, which enshrined the honorees with sculptures, plaques and displays of memorabilia.
Lasode listed notable Halls of Fame, which included first known Hall of Fame for Great Americans at Bronx Community College, New York City; the Ruhmeshalle in Munich Germany; the Walhalla Temple in Bavana Germany, conceived in 1807 and built between 1830 and 1842.
Others included modern Halls of Fame, Black Filmmakers Hall of Fame, Hall of Fame for Great American, The Apollo Theatre Hall of Fame, Hollywood Walk of Fame, Gospel Music Hall of Fame, Grammy Hall of Fame for Recordings, Grammy Lifetime Achievement Award for people, National Museum of Dance Hall of Fame, Hit Parade Hall of Fame; English Football Hall of Fame, Basketball Hall of Fame and National Basketball Hall of Fame and Museum.
Lasode cited section 7.5.2 of the cultural policy, 1988 for Nigeria, which states clearly that the state shall promote the establishment of Halls of Fame, light and sound shows, which shall serve as a vehicle for national ethical orientation, commemorating pride in service to the nation, promoting a sense of patriotism and national consciousnesses.
He said an ideal structure for Hall of Fame would be one that included a museum, the actual Hall of Fame, and research library with three parts, working together as a cohesive force under one roof.
While reiterating the role of halls of fame in tourism development, Lasode said the benefits of Halls of Fame to the Nigerian economy were enormous. He urged government and well-meaning individuals to support the setting up of infrastructure such as buildings to house memorabilia.
While bemoaning the absence of some of his old colleagues to the event, Ugboma blamed Nigeria's woes on a breed of bad followership that also attracts bad leadership. His words: 'Nigeria Police is verbally assaulted because the citizens cooperate with them for the extortions going on, on our roads.' Ugbomah added that the movie industry would never be salvaged outside the practitioners, urging them to wake up and build their sector or be losers, as no one would do it for them.
Asked if he has any regrets at 70, he said: 'I did all what I ought to have done in filmmaking industry and I'm still alive. And I'm very happy about it. What hurts me most is that I didn't take enough care of my family. Money was everything and anytime my children asked for money, I didn't hesitate. So my children are like strangers. 11 of them are all graduates and anytime I talk, it is like a stranger is talking to them. It is the damage the film industry has done to me.''