YORUBA MOVIE STAR,AYO BADMUS OPENS UP ON WEDDING PLAN MESS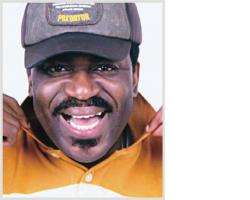 Popular actor, Ayodele Badmus plan to quit bachelorhood has hit a brick-wall, if the information at our disposal is anything to count on.
According to information, the Ibadan, Oyo State born role interpreter and his nurse lover,Temilade Balogun are said to be in a bitter feud at the moment.This,we gathered, has stalled their preparations for their proposed wedding said to have been fixed for August 28,2011.
Details of the hiccups are yet to be ascertained but an industry source revealed to us that Temilade's grouse is premised on the suspicion that the famous actor is savouring a juicy romance with another lady, also parading herself as Ayo's lover.
This, we were told, has posed a serious threat to the yet to be consummated marriage between the star actor and Temilade.
The source further disclosed to us that Ayo's efforts to mend the fence with Temmy,as Temilade is fondly addressed, have not produced the desired result, hence the decision by the ebony actor to shelve the wedding until the crisis is permanently resolved.
" Ayo Badmus and his lover, Temilade have a serious misunderstanding now. I learnt the lady is accusing Ayo of double dealing with another lady and this has constituted a serious threat to the relationship he is nurturing with Temilade.I learnt that when the lady was hinted of Ayo's unholy affair, she warned him and he pledged to turn a new leaf. But the reverse was the case.
I learnt that this may have affected their wedding plan.They're now trying to get it resolved but that has not materialized. I also learnt that Temilade's parents have instructed Ayo to resolve the issue before seeking their blessing as both of them seem not to be ready for wedding now" the source squealed.
We reached out to AY, as Ayo Badmus is fondly addressed. Here is how he reacted ; It's true we had a misunderstanding but we have resolved it. To be honest with you, it has not affected our relationship as being speculated. I still love her and she is my wife, she also loves me.