Playing Romantic Roles Upsets My Husband--------Foluke Daramola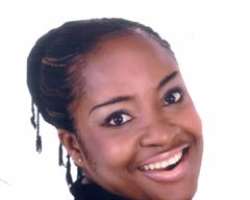 The first chance she got to prove her passion for acting was on the set of Palace- a Tunji Bamishigbin directed soap opera that aired on AIT in the late 90s.
There this average height, pretty busty mother of two played Remi- the only daughter of Prince Jide Kosoko.
Since she cut her teeth in English soap, she has since moved on to directing, producing and acting big time- in Yoruba movies like Agogo Ewo, Ori o'jori to mention a few- in her acting career that's spanned well over a decade.
Today we engage this acting wonder- Foluke Daramola in a chat where she discloses that her husband would rather not watch her movies where she plays romantic roles so as not to get upset.
The year 2009 has just begun, what are your plans for the year?
Right now I'm shooting a movie. I should complete shooting about two movies before the end of the first quarter of the year. I'm also working on my talk show.
What's the movie you're shooting at present about?
The movie is called "Wakati Eda" (individual timing). It talks about morality and the good work that Governor Babatunde Fashola is doing. It also talks about contentment.
Yoruba movies are gradually taking over the market, what is responsible?
I'll say Yoruba movies are indigenous. There is no way we can speak English language more than the white man who's mother tongue is English.
I started with the English movies before doing Yoruba movies. What I'm saying is that we should try and relate more with our own culture instead of borrowing the white man's tradition.
If you are an Igbo man, do Igbo movies to showcase your own culture once in a while. If you're Hausa, Yoruba, Efik, Idoma etc, try and express your own culture in the movies. Sometimes the English movies may have good story lines, lovely script but we are not able to express them wonderfully well because we're not whites.
If you are to rate Nollywood in terms of delivery, what percentage will you give to the industry?
I'll say thirty per cent because we've not gotten anywhere. We've not even gotten to the stage of Bollywood, not to talk of Hollywood. We are still growing.
Financially and technologically, we are handicapped. We have people with wonderful talents in this country especially within Nollywood but so many handicaps are restricting these talents. In Hollywood and Bollywood, they have film villages with superior technology which we don't have.
Here in Nigeria, most times we have to borrow people's houses and cars. In Hollywood, you find car companies giving out their cars for use and sometimes this companies pay for the advert of these cars.
You see furniture companies and even hotels giving out their goods and services free for the production of movies. While in Nigeria (Nollywood), you have to go begging these companies and most times, they'll ask you to pay them.
They don't know or they forget that they should be paying us for using them because we're giving them adverts by using their product.
I believe that over time we'll settle these issues and Nollywood will become better.
How long have you been in this industry?
I've been in the showbiz industry for about twelve years.
How many movies have you featured in?
(Laughing) I can't recall them because they're so many. I've produced, directed and acted many movies.
Mention a few of your best....
In the English movies, I did 'Deadly proposal 2', Satanic, Ibinabo, I did some soap opera's too like Palace, Everyday People and 'The Barbers Wisdom' which was my highest paid. In Yoruba movies, I've featured in Agogo Ewo and Ayomide. I've produced Ori o j'ori 1 & 2, I produced, directed and acted in Emi etc.
What are the dividends you've received as an actress?
I'll say it has given me fame, open doors etc. It has also made my daughter to be very proud of me because she never stops telling her friends that her mother is an actress.
What was the experience like working with professionals on set when you first started?
Oh! It was like a dream come true for me. Working with the likes of Jide Kosoko, Liz Benson and Uncle Yomi Obileye was awesome for me as a beginner then. It was a much challenging experience though but I enjoyed it.
Of all your movies, which is the most challenging?
I'll give it to Emi because I was taking several roles together. I was directing, producing and acting at the same time. Then Ori O j'ori was about my best movie because I made so much money from it.
Apart from the movies, what else do you do?
Of course I didn't study Theatre Arts in the university. I read International Relations in Obafemi Awolowo University, Ife. I'm currently doing my masters in International Law and Diplomacy at the University of Lagos.
Acting is just a passion I have but I also have interest in international politics. I want to be a diplomat.
Let's go a little more personal, how do you juggle your career with home?
I'm married but it doesn't worry my career. My partner has been very understanding. Initially when I got married, I was picking the roles I did. Any role that wasn't convenient for me I dropped. Most times when I need to spend more time with family especially when we were newly married, I reduced the number of jobs I was doing.
How did you meet your husband?
We met in church. We had known each other for three years even before I became a star.
How does he feel watching you on set especially when it's a romantic role you're playing?
When it is a romantic role, he doesn't watch my movie so that he won't get upset. But for other roles, he encourages me to bring out my best. And my kids are proud when they watch their mum on set.
How many kids do you have?
Just two of them. A boy and a girl.
What do you do to keep fit?
I go to the gym and watch what I eat but recently I've been very lazy in going to the gym.
But you don't look like one who goes to the gym...
I've been lazy recently but I hope to make up and shed more weight.
Any word to your fans...?
I say thank you to all of them because I wonder what would have happened if they hadn't been there for me.
They should keep watching me because I'm yet to unleash my best.
Thanks for your time.