AN INEPT LEADERSHIP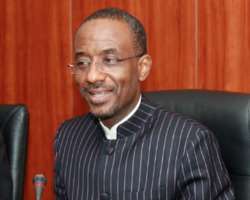 CENTRAL BANK OF NIGERIA (CBN) GOVERNOR, MALLAM LAMIDO SANUSI.
As I sit in my living room, going over the events of the past couple of weeks as regards the global economy and Nigeria's place in it.
I can't but help to shudder at the inept and Incompetent leadership coming out of the Political and economic managers in Aso Rock, the CBN, and the Senate/House of Reps
ASO ROCK
The global economy is currently in turmoil, all risk assets (commodities, equities, oil) are in free-fall. However in Nigeria we live in a bizarro alternate universe where
government continues to spend like drunken sailors, with little or no insight on the impending doom. President Jonathan has not seen it fit to address the nation or reassure the markets like his counterpart in the USA, even though we are more vulnerable than they are.
The President does not seem to realize that his 2011 budget is anchored on an unrealistic benchmark($75/barrell oil), with the free fall in oil and the Gigantic
increase in recurrent expenditure exacerbated by the new increase in minimum wage. It seems to me and most Analysts that sooner rather than later, the shit is going to hit the
fan literally.
The President is today looking to me (a hitherto avid supporter), as not only clueless but way over his league. When was the last time he met with his Economic advisers, or the CBN Governor? Who took the decision to Nationalize Nigerian banks? Why the sudden assailing of Privatization by the also rather clueless and colorless VP? How the heck do you assail Privatization in one breadth and in another expect to conduct your power sector reforms, which is expected to attract a minimum of $3.5Billion from Private sector investors? Does the President Understand that Nationalization is a terrible signal to send to investors? How is the hapless Aganga (Minister of Trade and Investment) expected to attract FDI, with the Mind boggling head scratching policies of this GOVT?
Why has the President allowed the CBN Governor to run riot, without at least informing him of his displeasure on some of his Growth killing policies?
When Obama took over from bush in 2008, he regularly met with the Federal Reserve Chairman (Ben Bernanke) even though he was a bush appointee who was right leaning. After a time Bernanke signaled support for some of Obama's policies like the stimulus and a stricter regulation of Wall Street. Why is this President unconcerned about the tremendous damage being done to this country by a CBN Governor who is more suited to politics than Economics?
GEJ is running an Inept and Intellectually Incompetent Leadership (at least when it comes to the Nigerian Economy), because we have depleted the excess crude account under his watch while oil was high, and now that the real crises has just begun we have no cushion to fall back on.
The President is sending poor signals on his commitment to free markets with his ill conceived Nationalization agenda and Mischievous attack on Privatization.
The President has refused to use his bully pulpit to meet with the leading Private sector operatives in our Economy such as MTN, GLO, etc and offer them incentives (say 15% rate on corporate taxes, and sponsor a bill to that effect, instead of the ill conceived tenure elongation nonsense) to list their shares on the Nigerian Bourse
This President has lost Focus and needs to wake up fast. He has so far earned the dubious distinction of being the first democratic President since 1999 to oversee
the Nationalization of Stock Market listed Private sector assets leading to wealth destruction and massive job losses.
THE CBN
The CBN Governor Sanusi Lamido Sanusi is a hard man to read, sometimes he strikes one as a Politician trapped in a central bankers body. Sometimes the reverse is the case. Whatever it may be, he has proven over and again that courting controversy rather than conservatism is his Mod-us Operandi.
The Latest is the totally ignorant and Insensitive Nationalization of 3 Major Nigerian Banks right at the onset of another global recession.
In the last recession of 2009 the USA Fed Governor, Treasury and Obama, made sure to signal the markets that there would be no nationalization and there was none.
The Treasury instead took a stake in Citigroup, which continued to trade on the stock exchange and today that stake is gradually being sold on the exchange
by the US Government
Sanusi However has never missed an opportunity to threaten Nationalization or Liquidation of our local banks. Why the imprudent rejection of the Vine Capital/
Afribank deal?
Why does this CBN Governor revel in idiotic controversies instead of focusing on his core mandate of low Inflation and Macroeconomic stability?
Why is there a controversy over Islamic Banking? Why not simply remove the Religious connotations in the recently released NIFI guidelines?
Why does the CBN Governor in a Supposed Free Market Economy like Nigeria revel in attacking the IMF, and Sounding exactly like a clueless Politician?
I hold no briefs for the IMF, but I don't need my CBN Governor making speeches attacking the IMF like a CBN Governor from Zimbabwe or Venezuela would do.
The IMF Proposition for countries like Nigeria is to simply cut wasteful government Spending, Privatize Inefficient government enterprises, remove wasteful subsidies on things like Petrol, which has little benefits but causes major distortions and impedes Investments in the sector, and don't use Scarce reserves to defend consumption
by supporting an artificially high exchange rate for the Naira. Most Analysts will agree that Nigeria needs more of the above not less.
The CBN Governor should know that the Naira will strengthen when Nigerian companies become more productive, and we spun more Dangotes that will go out there and earn forex for the country, anything outside that is postponing the evil day, which is coming sooner than we think. Let us see what this Central bank will do when oil falls below the budget benchmark, the global economy enters recession and reserves fall below $30Billion. Will he still lampoon the IMF for cheap publicity? I await the end of this comical Farce
Sanusi is running an Inept and Intellectually Incompetent Leadership(in the Nigerian Central Bank),because he is failing in his core Central Banking Mandates
The External reserves are falling, While other Emerging markets like Brazil and South Africa are dealing with excess Inflows pushing up the value of the Real and Rand, we are busy defending the Naira with scarce dollars, there is currently a very wide differential btw the Laughable CBN official rate and the Black Market rates.
There is little or no imagination in tackling Inflation except in Jacking up the MPR rate in a period of expected global slowdown, talk of the ultimate Pro cyclical move
Sanusi is Failing because he has shown no imagination in resolving the Nigerian Banking crises. The CBN Governor normally does no critical analysis of topical Issues before commenting on them. The last headline emanating from Sanusi was about the use of Pension Funds to Invest in Infrastructure.
Well, we all know that ok, it's a no brainer. The real issue to tackle is bank-ability of projects; water tight PPP Legal Framework and so on.
The CBN is under Inept Leadership because we have a Governor that prefers to play to the Gallery, than sit down and engage in critical thinking to solve critical
problems. A Governor that has deliberately chosen to spread Uncertainty instead of Prosperity.
SENATE / HOUSE OF REPS
Lately the Senate and Reps have begun another fishing Expedition called the probe of sales of Public sector companies under the Privatization Process of the past decade.
This is indeed a needless distraction at this critical period of global uncertainty. How do you attract FDI to Nigeria when u are sounding so anti-Privatization?
How about the senate probe how the budget benchmark was jacked up to $75 a barrel without an idea about how to fund it if oil prices fall below that benchmark?
How about a probe on the non accretion to Nigeria external reserves in a period of high oil prices, with a summon of the CBN,NNPC,FINANCE MINISTRY,DMO etc to
provide answers to this seemingly baffling question of GOVT revenue Leakages?
How about the Senate just does its job and pass the PIB Bill? Why is there no movement on this all important bill that will regulate the sector that currently brings in 80% of Nigeria's Dollar Earnings?
The Senate and House of Reps members come across to me as a bunch of unserious charlatans who prefer to fiddle while the world burns
The Senate/House of Reps are Incompetent and Incapable of Providing Leadership to Nigeria in a time of global Crises like we are now approaching.
They are the weakest link in the chain (Irrelevant to most Nigerians) and they don't even seem to know it
CONCLUSION
SO what a motley crew we have. An Ineffective and colorless President, an even more inept Vice President who as chair of the National Council of Privatization (NCP), all the same lampoons Privatization as failed (you can't make this up). A CBN Governor that is either bi-polar (thinks he is a Politician) or not qualified for the Post he holds and a Senate/Reps who have utterly no clue as to how global economics work, refuse to learn but rather prefer to bask in Ignorance.
Does the VP (chair of NCP) understand the implication of his words, and the negative effects therein? Does the CBN Governor understand that Nationalization failed in
1970 Nigeria and is bound to fail today? Does he understand more than a rudimentary Knowledge of Economics?
Do the Reps and Senators understand how wealth is created by the Private Sector (and I don't mean Jumbo Payments made to self).Do they Understand that
Government has Failed Nigerians and do they know that they (the Senators/Reps) are unproductive and are basically a tax on Nigeria?
Finally does the President (Jonathan) understand that time is short? As of today his legacy is one of Falling Stock Markets, Poor Job creation, inept leadership
depleted For-ex/Excess Crude Account, on takeoff of the Sovereign Wealth Fund, Bloated Federal Workforce, A lack of communication on the Economy, Inconsistent Policy Thrust, and distractions instead of a laser-like Focus on what is Important to most Nigerians from the Investor class to the Average Joe.
Looking at all the above I am exasperated as I ask, Is there a brain box in the GEJ Administration/presidency? Is there a critical thinker that can see the big
picture and how to get there?
I can only keep my fingers crossed.
Paddy Jideofor has a BSC in Economics and an MBA in Finance. A Former Resident of Philadelphia USA, moved back to Nigeria in Dec 2010, and currently lives and works in Lagos.
Disclaimer:

"The views/contents expressed in this article are the sole responsibility of the author(s) and do not necessarily reflect those of The Nigerian Voice. The Nigerian Voice will not be responsible or liable for any inaccurate or incorrect statements contained in this article."
Articles by thewillnigeria.com