Stars ready for Bukky Wright's premiere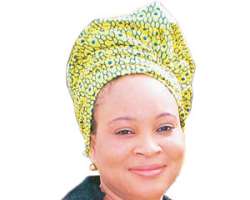 All is now set for the grand premiere of star actress, Bukky Wright's latest movie. Entitled: Omotara Johnson, the anticipated evening of laughter and networking, holds elaborately on Sunday, February 15, 2008, at the Matinos Events Hall, Ikeja, Lagos. Among the stars that sizzled in the heart-wrenching flick include: Chidi Mokeme, Adebayo Salami, Femi Brainard, Akin Lewis, Toyin Alausa and several others. Directed by the duo of Muyideen Sasilu and Wale Ilebiyi, it was filmed on various locations within and outside Lagos. According to Miss Wright, who wrote, produced and acted in the thriller, the story dwells on love and the ultimate prize tied to the four-lettered word. She further revealed that the flick is her gift to all lovers and their loved ones in this season of Valentine, promising that she would continue to show love and appreciations to her teeming fans globally. The movie is expected to go on tour of some selected cinemas within and

outside Nigeria, immediately after the premiere, before being released.