FIFA U-20 WORLD CUP :PAINFUL EXIT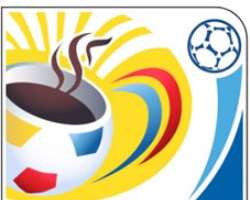 The first quarter-final duel of the FIFA Under-20 World Cup ended in incomparable drama. Its second ceased in incomparable despair. Ultimately, as Portugal and Mexico were left to celebrate last-four places, while Argentina and Colombia were left to commiserate elimination.
The Iberians' finishing had deserted them during 120 goalless minutes with the record six-time champions, and it was effectively certain to cost them a place in the last four, after spot-kicks from Danilo and Roderick were saved by Esteban Andrada.
Portugal needed to convert her last two attempts and hope that Argentina would miss hers just to take it to sudden death. And that is exactly what happened thanks to the reflexes of Mika, who went on to save his third penalty and clinch a 5-4 victory – and one of the most sensational shoot-out comebacks in football history – for Ilidio Vale's team.
The remaining game begin amid an exceptional atmosphere in Bogota, where the masses were raring to roar Colombia into the semis. Ninety minutes later and those supporters' dreams had been destroyed, a 3-1 success, enhancing what is a magical meridian for Mexican football.
Four goals were scored. The first was a mishit penalty which crept under Bonilla's body. The second was a strike that somehow went under legs of the Mexico's keeper. The last was one that went through the hands of the Colombia No1.
So, while the third was hardly a goal of the tournament contender, it was well-taken, fundamental and worth its place here. Ulises Davila whipped in a corner and, despite having his vision impaired by two Colombian defenders, substitute, Edson Rivera, arched back his head and with it generated sufficient power to beat Bonilla and hit the roof of his net.
Porto may be the Portuguese champion, but it didn't have one representative on the field as the first quarter-final kicked off. That changed on the hour, though the incoming substitute got a boo rather than a cheer from the contingent of Dragões followers in Cartagena. That's because Argentina's Juan Iturbe was striving to harm the fans he will aim to please at club level.
After 90 exhausting minutes amid the high altitude of Cartagena, several of the Portuguese players tucked into an energiser. It was not, however, a banana or an energy bar. Instead, they were given a plastic spoon and tub filled with jelly!