I USE WARRI WISDOM ON GIRLS-ERIC ARUBAYI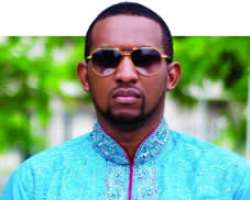 Eric Arubayi was the third runner up in the 2007 West African Idol contest. Recently he launched his new album at the SS lounge Victoria Island Lagos. And it proved a good opportunity to draw the multi-talented entrepreneur into a chat with Sunday Sun, which turned out to be very revealing as he spoke extensively about his early years, music and relationship with ladies. Excerpts…
What have you been up to lately?
Well, I have been pushing my new album to the public so that everyone can have access to it. I have also been traveling a lot so that my fans can listen to it and love it.
How would you characterize the public's acceptance of your songs?
It has been very good. But you know not everybody would like it. Some think it is too musical while some think it great. But so far, so good. I can say that I tried to express myself in the album.
What inspires your music?
Love, life and relationship with people.
Who do you look up to in the music industry?
The big guys like Tuface and Asa.
You are from an academic background with a mother who is a professor. Why did you choose top play music full time?
Really, I don't know why but right from childhood I had always loved the microphone. But I think my grandfather was into music.
In which field is your mother a scholar?
She is a professor of home economics and my father is a professor too.
When did you actually make up your mind about going into music full time?
I have always been doing music all these years. I have always been singing in church. If I weren't singing in church I would be singing for one organization or the other. So making up my mind was made up a long time ago.
What was growing up like?
It was so much fun and things were much more easier than it is today. Then with N5000 from your parents, you could have a good time but now that amount can hardly afford the basic things of life for one day.
Have you always had it rosy?
Never! You know, when you grow up with a lot of books around and parents who were very strict, one just had to shape up. But my breakthrough came right after featuring in West African Idol.
What did you study in school?
I read politics and public administration. Initially, I had gone into University of Jos, for mass communication and theatre arts for two years before I left for South Africa.
Given the background of your parents, they would have wanted you to pick up a job after graduating. Didn't they object to your choice of career?
Of course they objected to it; they didn't want me to play music. Their primary concern was whether I would be able to feed and sustain myself from playing music full time. My father particularly drummed this into me. He even told me to stop doing mass communication and theatre arts and relocate overseas. You know, the offer of studying abroad was like a bait, and fell for it and left the country. But I stood my ground and still continued doing music.
Are they supportive now?
Yes they are and considering the fact that I am a man, they have left me to make my decisions.
What challenges do you face in the music industry?
Well the major challenges I am facing right now is the acceptability of my kind of music, which I think is kind of mature. I do R&B, soul, funk and a fusion of African root.
So are you not doing something commercial that would catch that particular group of people?
Of course, there is something like that in the album but I am just saying it is not the real me but because it is what they want. So I have the infusion of this pankolopankolo. In my album I cater for everyone.
Was there a time you wanted to stop playing music full time?
Yes, shortly after the West African Idol show. I was so demoralized. I know that the judges of West African Idol were not stupid in choosing me among the finalists. Honestly, I wasn't clamouring to win but I wanted to be the best and I was happy to be among the best four. And I thought if Africa would vote me to be among the first four, without any 'magomago' or me having to pay anybody for votes, then that means there was something they saw in me which I didn't realize was there myself.
But I was surprised that some people were saying that I won just because of my fine face; that it had nothing to do with my talent. It was really difficult for me then and I was demoralized. Was that all they could see? I wondered a bit about that. Obviously, they didn't hear my voice, neither did they feel the song. Why couldn't they see beyond that and look at the talent? So for some time I went into myself to get the strength I needed to make a stronger come back. But I have realized that if you want to be great here in Nigeria you must be deaf to some things said about you.
But your looks should be an advantage and not otherwise?
Not for everybody.
For you it was not?
Like I said at that time it wasn't, although the girls they were all over me, while some guys were simply jealous and said things like, 'abeg we know you want to take our girls from us, abi we know no your plan.'
Was Idol not helpful to your career?
Of course it was and it was a big brand. You know I prayed that I should get on it and make it big and I thank God for the opportunity. It really opened more doors for me. It was a great platform for me.
Earlier you said you weren't keen about wining why?
Yes, I was not really keen on winning.
Were you not sure about yourself?
Of course I was sure about myself but maybe I didn't want a broken head or tail trying so hard and at the end of the day I didn't make it. In my heart I used to think that too much attention sometimes can get on the winners and they might not be able to achieve what they are supposed to achieve at that time. Second runner up and first runner up do well too. Another thing then was that we were signing a lot of contracts and then I saw it as a bondage at that time. I felt if I should win, my life might be controlled too and I felt at that time I felt I needed some form of freedom. So I felt I wanted to be one of those people that would be considered.
So what did you get from the contest?
At least you now know who I am. When people see me on the road they remember that they once saw me on West African Idol. So I got fame. It opened lost of doors and opportunities for me. Particularly, doors that I could not walk up to on my own but Idol opened up such doors for me.
What did fame take from you?
Mama put (laughs).
Fine boy like you dey eat Mamaput?
Yes o! I do it sometimes. I miss taking rides on commercial motorcycles (okada) especially when you are in Lagos. There is no way you will not take okada to keep appointments. The traffic can be so crazy in Lagos that you can't help it. Also if someone rams my car now, I can't come down and make trouble. I also have to be careful about what I say, so that people won't misinterpret it. You watch where you go to and comport yourself, you know these things sometimes just make you a fake person.
So what about the girls?
They are fine.
What is your relationship with them like?
We have a good relationship.
Okay. As a good-looking musician, and who is a bachelor, what has it been like with the girls?
I relate with them very well, it can be a little bit stressful and disturbing keeping up with over 5000 on Facebook and over 3000 on Twitter. You know some them you have to be in contact with personally, some on phone and so on but we have healthy relationship. We get along; you know most of these girls hate it and get upset when I forget their names.
Any girlfriend now?
At the moment, no.
But you used to?
Yes.
So what happened?
That is my personal life.
Have you had any embarrassing moment from a fan?
Yes, I have had many. But there was this particular girl that disturbed me for years but she has stopped now. I hope she is okay wherever she is now. In those days, used to greet me every morning on the phone; she would tell me what her day would be like. And if she saw me talking with somebody, she would talk about it. Everyday she sent text messages.
So she was actually stalking you?
Yes, she stalked me. On Facebook she would tell me what she was going through and ask me to advice her. She came to my office on my birthday and gave me a card and a present - a very strange gift that I can't tell you about.
What was it?
I simply refuse to tell you. I have many of them but I am using the wisdom I was taught in Warri to deal with them.
Lets go back to your relationship status - how soon would you get back into a relationship?
Of course I will.
When should we expect to hear wedding bells?
As soon as you find me a good girl, I will marry (laughs). You see most people tend to jump into the question like why is Eric not in a relationship or why is it that his relationship failed? But I am just like every other guy out there. You know sometimes you go into relationship and the intent in which you go into such relationship doesn't come out that way. I am a product of past relationships that have failed and in each relationship I have learnt to be better person. So I am not rushing into anyone now.
What is your standard for a wife material then?
She must have the fear of God. I want someone who will love me for me.
But you love fashion and you never said she should be very stylish?
My sister, I have seen girls and if you choose the ones that are fashionable you might be blinded with the fashion and choose the fashion over all other things. For me the most important is those things I mentioned. That is okay, as for fashion if you have money you can buy her clothes. A woman that has a wicked heart, you cannot change that. You will stay with her for the rest of your life. I look towards the heart but like they say that sometimes you can never tell but with the little time you spend together you will get to know her. Fashion you can take her for extreme makeover and she would look fine.
What is your favorite brand?
That would be Louis Vuitton.
Aside music what do you do?
I have a shop for ladies clothes and I also do interior designs.
Are you likely to dump music later?
No, I won't. It was the only thing I knew but these other things I learnt along the line. Singing was a natural thing for me as a young child. I used to be in the children's choir with my small bow tie and glasses.