YOBO MAKES CAN 2012 PLEDGE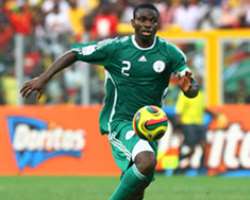 The botched August 9 international friendly between Nigeria and Ghana in London would have served two primary purposes for the Super Eagles of Nigeria.
First, it would have been a good opportunity for the Eagles to avenge the several defeats Nigeria had suffered of late in the hands of her West African neighbour.
Secondly, the Eagles would have used it to fine-tune their strategies for the September 5 Nations Cup qualifier against Madagascar in Antananarivo.
As it stands now, the Eagles will play Madagascar without the luxury of a friendly, a situation, which is not too good for the Samson Siasia-tutored team.
Despite this drawback, Super Eagles skipper, Joseph Yobo says Nigerian soccer fans have nothing to worry about, as the Eagles will land in Gabon/Equatorial Guinea for the 2012 Nations Cup.
Yobo, who spoke exclusively with Sunday Sunsports at Watford Hilton Hotel in London, is confident that Eagles will leave Antananarivo with three points and come home to wrap up the qualification with a victory over current group leader, Guinea.
Below is the interview with Yobo:
How do you feel over the decision to cancel the friendly against Ghana?
Very disappointing. I was looking forward to the game. The last minute cancellation came as a big surprise but there is nothing we can do about it. Security is very important, so I support the decision. Life comes first. Going ahead with the game would have amounted to putting our lives at risk.
The game has been re-scheduled for October 11, what should we be expecting?
I am looking forward to it. I believe there should be a re-match in October; we will be proving to the Ghanaians that they are not better than us when it comes to football. I just hope we have our full squad when we play them.
Let's look at the September 5 Nations Cup qualifiers against Madagascar, what chances do we have?
We are going to Madagascar to give them a very good game. Thank God the season in Europe has just started. We are going to be in good shape when we face Madagascar in Antananarivo. We know it is a must-win game, so we just have to put in our best. We are going to get the three points. That is the important thing. It might be difficult, no game is easy, but we will definitely get the three points.
Some of your teammates were not in London for the friendly against Ghana. Don't you think this will repeat itself in the September 5 game?
I don't think so. My colleagues had genuine reasons as to why they were not in London. It had to do with visa problem and injuries. I pray there won't be any injury problem ahead of the Madagascar game. We are professionals and we know how important the game against Madagascar is. We will be there and in good time too.
Many people were not happy with Eagles' outing against Ethiopia. Will the game against
Madagascar not go the same way?
We will definitely have a better outing in Madagascar. We are going to improve with every game. Don't forget that Coach Siasia is building a new team. We are gradually adapting to his style and the team will keep improving with every game. Nigerians should be patient with us. They should pray and continue to support us.
What is your message to Nigerians, are we going to qualify for the Nations Cup?
By the grace of God we are going to qualify. Nigerians don't need to lose any sleep over our qualification. We are going to put in everything into the two remaining games. Tell Nigerians that my message is that there is no way we won't be at the 2012 Nations Cup in Gabon/Equatorial Guinea.