EFCC Hands Over Indicted Nigerian Fraudster To U.S Court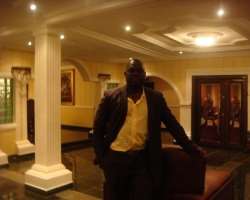 A FILE PHOTO OF NIGERIAN FUGITIVE EMMANUEL EKHATOR.
* Vows To Make Nigeria Unsafe For Fugitive Criminals
ABUJA, August 12, (THEWILL) - The Economic and Financial Crimes Commission, EFCC has vowed that Nigeria will no longer be a safe place for Nigerian fugitive criminals fleeing from law enforcement agents in other countries.
Chairman of the anti-graft agency, Mrs. Farida Waziri who disclosed this while briefing some officers of the Commission on the successful handover of a Nigerian fugitive, Emmanuel Ekhator to a court in the United States on Thursday said the suspect is the third Nigerian fugitive to be handed over to the US authorities by the EFCC while two others are presently awaiting extradition to the U.S
While George Ubeozor was extradited in 2008, Sunday Adebisi Adegbesan was handed over in 2009 both to the authorities in New York. The Latest to suffer the same fate, Ehkator was indicted in the U.S. District court for the Middle District of Pennsylvania on November 3, 2010 over a $32 million internet collections scam.
Emmanuel Ekhator living large in Cancun Mexico.
The suspect was arrested in Benin City, Edo State in August 2010 by EFCC operatives following top level exchange of information between U.S. Law enforcement agents and the EFCC over the activities of a trans-border ring of internet scammers headed by Ekhator.
The extradition process filed through the office of the Attorney General and Minister of Justice was eventually approved by a federal high court in Lagos on July 26th, 2011.
The suspect was however flown to the U.S. on Wednesday and handed over to a District Court for the Middle District of Pennsylvania on Thursday by an officer of the EFCC.
The Canadian residence purchased with proceeds of Mr. Ekhator's illicit deals.
Speaking on the extradition on Friday, Waziri tasked operatives working on other pending similar cases to intensify their efforts.
"With the latest extradition in addition to the two earlier done, and the two others pending, the message should be clear to anyone who travels abroad to commit crime and run back home to hide that Nigeria is no longer safe for them because, we will get them and hand them over to face the law.
"We will continue to do our best in this regard and with the continued support of the Attorney General of the Federation, we will surely make Nigeria unsafe for those fleeing from the long arms of the law in other jurisdictions because this country should never be a safe place for fugitive criminals," Farida stated.