PATHETIC STORY OF SLAIN BANKER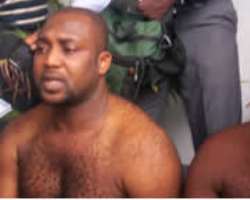 Onyeka and Kenneth
If the slain manager of defunct Springbank Plc., Emeka Nwazuruike, were living with his family - wife and children or others, possibly his lifeless body wouldn't by now be chilling in the morgue.
Nwazuruike was the Ebute Metta branch manager of the bank that was liquidated penultimate Friday and changed to Enterprise Bank Ltd.
The banker had been married for some years and lived with his wife at his ground floor three bedroom apartment at No. 24, Silver Street, Finiger area, Satellite Town, Lagos. They separated in January this year over family problem. The wife is said to be living in Festac, while the man lived alone.
Kenneth Udeh, an in-law to the bank debtor, Onyeka Idemili went to the banker's apartment and murdered him in cold blood last Saturday as the allegation says now.
Money, which we are told is the root of all evil is at the centre of the banker's death. Nwazuruike and his next-door neighbour, Onyeka, a businessman at one of the markets at Trade Fair complex were friends. The friendship was cultivated over a long period that they trusted each other to the extent of entering into business relationship. Both were from the same Okija in Ihiala Local Government Area, Anambra State.
The bank manger had easy access to money and Onyeka being a businessman needs money to expand his business. Going to the normal route of obtaining bank facilities is not all that easy, so Onyeka was getting money through short cuts with Emeka lending him some money and thereafter he would refund the money with interest.
Onyeka first borrowed N2 million from Emeka and was paying N200,000 monthly interest. Onyeka fulfilled his own part of the bargain.
He again brought a business proposal that would take N22 million. Emeka after studying the proposal agreed to be part of it.
Speaking during parade by the police, Onyeka said he borrowed N22 million from Emeka. According to him, it was joint venture. 'I brought the business proposal to him and he showed interest. But he told me he would not pay for the entire transaction that it should be shared in two. I had borrowed N2 million earlier and was re-paying monthly with interest of N200,000.' Onyeka accused Emeka of causing the whole problem when he didn't meet his part of the bargain on time.
'He caused the whole problem because as a the time I was to travel to get the goods, a dollar was N151.5. When I got there, he didn't pay the N11 million into my account and that caused a delay. When he eventually paid, dollar had gone up to N156.8. At the end of the day, I lost over N2 million. I managed to pay twice the interest of N1.9 million on the borrowed sum but stopped because I had to get another goods to make up for the loss in the earlie transaction.
'So because of the slight default, he started pressing for his money and I still assured him I would comply. My father even paid N3 million of the sum and I promised I would finish the payment before the end of the year. I didn't quarrel with him at any point in time. All I did was to beg him, even when he brought his lawyer to intervene.'
Onyeka maintained that he didn't at any time send Kenneth his brother in-law to murder Emeka.
In his narration of how he killed Nwazuruike, Kenneth said he is full of regrets, as he never intended to kill the banker but clarified that Onyeka didn't send him to kill his creditor. He also admitted not having any knowledge of the money issue or the details of the borrowing or repayment.
'I quite agree that I didn't know anything about the money that my in-law, Onyeka borrowed from Emeka. But when I started living with my in-law, Emeka reported the matter to me and I assured him he would get back the money.
'On the day in question, Emeka called me into his flat and together we went to buy newspapers and were reading them in his sitting room. He brought up the issue of the borrowed money again and accused me of spending it with my in-law. This led to an argument that made Emeka push and slap me. I dashed out of the flat and ran to ours to get a kitchen knife. I came back to his flat where I met him with towel tied round his waist.
'I warned him to keep away from me because I am very temperamental, but he rushed towards me and I did not know the knife had plunged into his body until I saw blood on the floor. At that point, I became afraid and rushed out of the house and jumped over the fence to the other street from where I contacted my in-law who at that time was at his shop.
The two suspects who are being detained at the State Criminal Investigative Bureau (SCIB). According to the Lagos aState Police Public Relations Officer, Samuel Jinadu said they would be prosecuted after investigations are concluded.