Tonto Dike in a rough ride again!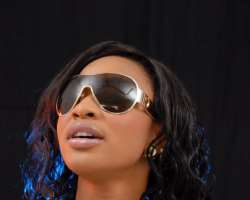 If this movie is finally released into the market, then, actress Tonto Dike will have no apology to render to her teeming fans and well-wishers for disappointing them again.
After the condemnable role she played in the controversial soft-porn, "Dirty Secret" produced few months ago by Sanga Entertainment, the pretty actress has damned the dust raised by that movie, as she stars in another deadly soft-porn movie called "Strippers in Love."
The movie which still is receiving finishing touches, and already raising making waves within the industry is produced by Divine Touch Productions Limited.
A scene in the movie captures Tonto, in a naked dance with a male-actor who is equally half-nude, and caught carried away in the pleasures of the dance.
She perches on the actor's 'time-bomb' in a manner that left much to be desired. The act is much more than a make-believe. An eyesore indeed.
One is sure that Nollywood is not transforming into a home of soft-porn movies like Ghollywood. Though we gathered that, this movie has not been censored yet, its hitting the market will definitely give a different interpretation to what Nollywood represents in Africa, and the entire world at large.
Some marketers have already started wagging tongues, even before the film is released. In case, you see Tonto Dike, tell her to learn to watch her back as all that "Glitters is not gold.