Tinsel @ 500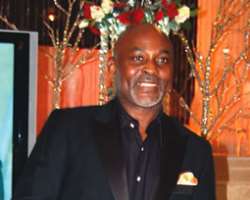 The big news has been Tinsel making it to 500 episodes. By now, the soap is well over that number. I'm not very sure about the significance of numbers in the life of a soap. What's obvious is that because of this landmark achievement, the producers of Tinsel have pulled out all the stops to make the soap more interesting for viewers. The most obvious example of this is the introduction of Richard Mofe-Damijo, otherwise known to his fans as RMD. He is playing Nero, Angela Dede's (Matilda Obaseki) runaway/returnee father.
One of TV's most recent 'miracles' has to be the almost biblical conversion of Tinsel. I still have my grouse with a few actors though. But as optimistic as I try to be, I couldn't have predicted that Tinsel could undergo such a noticeable improvement. So much that Tinsel has become my most anticipated programme every weekday and has even overtaken Jacob's Cross in its fifth season which is fast turning into Jacob's Curse.
But let's not take the shine off Tinsel. Let's look forward to another milestone.