Someone is out to ruin me-----Mercy Johnson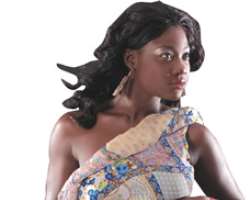 Someone is out to ruin me
•Losses N30m endorsement deal
•She didn't steal my money - Isaac Izoya
•Denies alleged Israeli lover
Mercy Johnson is at this moment riling the loss of an endorsement deal worth about N30 millions due to a negative media report her close associates believed were sponsored by those out to run her down.
Recently it was reported that Mercy stole the sum of $4000 belonging to Isaac Izoya the most popular international promoter who arranges Europe tour for our Nollywood stars. Isaac was said to have being contacted for his own side of the story and he said the rumour was not true (attached is the bromide of the email he sent to the enquiry).
As trivial as the rumour seems it has cost 'Nollywood Sexiest Actress 2008' an endorsement deal said to be worth several millions of naira. A telecommunication company which is known to have slashed several millions on entertainers was in serious discussion with her when the news broke.
The report put a stop to the ongoing discussion which had climaxed at an agreed sum of N30 million. Mercy was supposed to be unveiled as first Nollywood ambassador for the company. The company figured that a 'thieving' ambassador will not be complementary so it stopped all form of negotiation with the star actress.
Mercy that is presently shooting a movie in land of black gold, Ghana, is not happy and she is spoiling for a fight with the media, threatening to take those peddling bad news about her to court. Speaking to Showbiz Now in an emotional laden voice Mercy after her hand was stitched due to an injury she sustained on location said some people are out there to ruin and bring her down.
"I don't know where all these is coming from but I know it is handiwork of those that want to ruin me. Isaac sent them an email that the report is not true yet they refused to publish his response and went to town with response that I did not give. My enemies are planning to ruin me when they caught wind of the deal I was supposed to sign. Now, another report has it that an Israeli bought me an escalade. I don't even know what an escalade looks like. I've never dated a white man and I don't know the person they are talking about. I only drive Honda Element End of Discussion and Bulldog. Why is it that it is now that all these bad reports are coming out about me, I know is it a calculated attempt by someone out there who want to ruin me? Is it me that gave gift worth over N500, 000 to charity at once that will now steal $4000?"
We learnt that Mercy lost a similar deal recently when a friend of her advised her against collecting sum of N2m for an endorsement deal but that same friend took another actress who was offered N400, 000 to the company and they pocketed the money.
Isaac Izoya who spoke with us on phone denies the report saying Mercy never stole a dime from him. "I don't know why some people love to bring our stars down. Look, Okocha played better than Beckham but the English press built hype around him to make him look like the best in the world. We spent lots of money on the trip and recorded many successes without trouble.
Mercy did not still a dime from me. All the stars I took on the trip had to and fro ticket so why would she steal money to buy ticket for her return trip. I spent over 50 000 Euro on each of those trips I organize, why would people not see and celebrate that? Why are they looking for smoke where there is no fire? Those saying she stole just want to bring her down. I'll forward you the message the writer sent to me and what I sent back. This report is false; Mercy did not take any dime of my money."