NOLLYWOOD EXPOSE REASONS WHY MARRIED ONES ARE LOSING OUT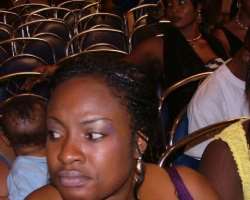 Why Yoruba actresses thrive more than the actors
•It has nothing to do with sex — Kush
•Actors cry out for help
In Yoruba genre of the movie industry it is a very common sight to see actresses giving actors lift and living larger than their male counterparts. They not only live large they are always ahead in their career.
Take a look at last year, aside Ahmed Alaseri and Saheed Balogun who made their mark production-wise in 2008 no other actor could boast of doing anything worthwhile in 2008.
What could be responsible for this trend? We asked two prominent actors who prefer not to have their names in print and they told us what they think. "These girls warm the beds of the marketers that is why they drive exotic cars why those of us that have been there long before some of them left secondary school still find it hard to buy a brand new car.
You might think this is lamentation of a loser but ask anybody in the industry, they will tell you our actresses have spoilt the industry. Marketers prefer to give them money to produce movie while actors will have to wait on the line forever. This is not how we started the industry; they (actresses) have killed the industry with their bottom power. And if you check it is only few of them that produce superb movies."
The second actor told us acting in the Yoruba genre has made him poorer. "Can you believe that one new actress bought two SUVs within two years while some big actors and very talented at that are languishing in poverty. This is not fair"
People also alleged that married actresses like, Lepa Shandy, Moji Olaiya, Ronke Oshodi Oke, Lola Alao and the rest who refuse to play ball are no longer getting patronage from marketers. "They don't call them again because they can no longer sleep with them. That is why you won't find stars like Lepa Shandy, Moji Olaiya and the rest in our movies anymore", a close source to the marketers told us.
But Aina Kushoro, the man behind KUSH told us the allegation is not true.
"Though there is nothing wrong in producers or marketers dating actresses these allegation by these people are not true. We prefer to work wth the female becaue the audience appreciate them more and they usually have good stories to tell. Most stories from the actors are not as good as some the actresses bring besides that they (actresses) are good manager of money. A movie location where an actor would spend N2m, an actress would spend about N1m. It has nothing to do with bottom power; it has everything to do with business sense. And those who say we are ruining Nollywood should go to the bank, borrow money and take the kind of risk we take. I'll only put my money where I am sure of maximum return.
Those who say we only invest on the female should look around. I invested in Oba Asa, a film by Saidi Balogun which would be released this month. Aside our investment these actresses get money outside of movie industry. I was with an actress in London at a public function where those who came to greet her gave her lots of money to appreciate her.
She left the place with over two thousand pounds. If she uses the money to buy a car would people say it is the marketers that are sponsoring her? There is nothing wrong, I repeat, if I date an actress but I will protect my business interest first above any sentiment."