LIGHT OUT OF THE COMIC HERO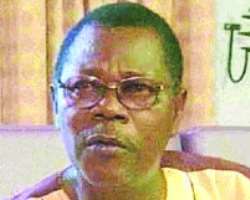 • Sam Loco Efe
Like the Biblical thief in the night, death came calling once again to the doorstep of one of Nigeria's best stars. Sam Loco Efe, the maverick comedian and actor last week bowed out in a most dramatic manner, as he reportedly died in his sleep after returning from a film location. The late actor died at 66, and has thus joined several of his colleagues who had died at the peak of their careers.
Efe's death dealt another blow to the already depleting sector, moreso that it came barely a month after the transition of Nigeria's Lady of Songs, Chief Mrs Christy Essien-Igbokwe. The latter had died at 50, an age she too was said to have predicted for herself. And worse till, Christy is yet to be buried when Sam too joined the mortal train, leaving their relations and millions of fans in grief.
And as if that was not enough, in between the sad loss of both Christy and Sam, another prominent musician, Pa Alaba Pedro left the scene. The late Highlife meastro died aboard aircraft while returning from the United States of America where he had joint shows with some of his colleagues. Pedro's death was all the more painful, as his exit spelt a major loss having been one of the few remaining Highlife singers Nigeria can proud of today.
Not too long ago, the artists' community lost the likes of Twin Seven Seven, the renowned painter of the famous Osogbo Art School, Ashley Nwosu, the mega Nollywood star and Sikiru Ayinde Barrister, the popular Fuji exponent and several others. Not to forget others like the youthful musician Dagrin, popular actress; Toun Oni, actor Joe Adekwagh as well as a few artistes who were either members of the National Troupe of Nigeria or National Association of Nigerian Theatre Arts Practitioners (NANTAP).
In the recent past too, Nigeria lost prominent artistes and entertainers such as Pa Steve Rhodes, Pa Orlando Owoh, Sony Okosuns, Oliver de Coque, Alade Aromire, among others. In a particular year for instance, no less than eight top artistes bade farewell to the sector, a misfortune which forced a number of entertainment practitioners to call for special prayers.
Perhaps the recurrent deaths recorded in the sector has become a subject of worry in the entire arts community. While some observers accuse artistes of living carefree life based on bohemian style, others said the frequency of deaths is not limited or peculiar to the arts sector alone, as ''people have always died and will continue to die''.
But more worrisome is that many of these artistes hardly live long before quitting the stage. For example, only a few of the fallen artistes lived up to seventy years. Apart from Rhodes and Owoh who died at 82 and 72 respectively, others like Okosuns, Oliver and Barrister left at age 62. Sam Loco himself died at 66 while Christy departed at a youthful age of 50, thus sharing death age with the late King of pop, Michael Jackson. It thus becomes a sad story to have had the likes of Dagrin, Adekwagh and Aromire die in their 20s, 30s and 40s.
Meanwhile, some observers of the entertainment sector blamed artistes for their lifestyles. One of them who pleaded anonymity said'' Ask many of our musicians and actors about the type of life they live, you would be shocked. Many of them are drug addicts while majority are great consumers of wine, tobacco and marijuana. Some even womanise while the female ones take delight in promiscuity as a culture. Only a few are free of these vices.''
However, another observer who was a musician before embracing Property Business said'' It's not only artistes that are guity of all these. We get to know of the artistes and their escapades because they are popular and are always in the news. There are many people out there who are drug addicts and drunkards. It's a question of what one wants out of life and how one wishes to live his or her life.'