I LIKE CHALLENGES, SIASIA REPLIES CRITICS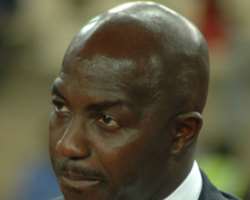 What kind of a Super Eagles did you inherit in November?
A depleted team after a not very good World Cup. After the initial problems, we are now working together to make sure the Eagles forgo the past that Nigerians were not happy with. I like how we are working together now and the sky will be our limit.
What about player power in the team?
The only boss is me and the rest are all players. But we have to work together.
But we saw the little thing with you and Osaze.
Like Osaze said, it was just a misunderstanding. He did not listen to what I told him to do. It was a FIFA free day and everybody was around and he insisted on going back to his club because he has injury problems.
I like challenges, Siasia replies critics
First of all, no club is bigger than this country.
And if you give me respect, I give you respect back.
We need him, he is a good player but we all have to respect ourselves and the team.
How are you preparing for the must-win Nations Cup qualifier in Madagascar next month?
Training in Mauritius will cost us a extra day and that was why we will now go directly to Madagascar. That way we will get like four, five trainings before the game.
We will send an advance party to Madagascar to avoid what happened to us in Ethiopia, where the hotel was not good enough for players who are from top clubs in Europe and who are playing for Nigeria not for the money. They need a conducive environment where they could just relax to do their job. This is what we have to provide for them.
If we give the players the best, they will go out there and give their best.
So, what other things are you doing to win this very crucial game?
We have to ensure the players are on top of their game on the day. We have to prepare well, psyche them well and we have to be tactically sound.
Do you have enough information on Madagascar?
Not as much as I should. We have to do a lot of things on and off the pitch.
Is the Madagascar game your most important match thus far?
All games are very important. But this one has a lot riding on it. You could say so because if we don't win in Madagascar, our qualifying for the Nations Cup will be in jeopardy.
We have the players who are ready to play for this nation. They have been playing with a lot of energy and enthusiasm and we have to make sure everything is in place for them. We will go there and win because we have to win.
You are very much aware of Ahmed Musa who is with the Flying Eagles here in Colombia but he is also in your team. What have you seen of him so far?
Ahmed can be better than what he has done so far. He's a young, good player who has speed, but he can't keep running straight at goal, you have to know when you have to go inside and go outside. And his crosses, shooting and heading have to be better. As a winger his crosses are not that good. For a Super Eagles player he has to do more than what he is going. If he does that, there is no stopping him.
Warri Wolves striker Ekigho Ehiosun was personally recommended by you to Turkish club Samsunspor. It's a good transfer for the boy who came from nowhere. Six months ago, nobody knew who this boy was. He's a good player, who is ready to learn, he's not big headed, he's sharp in front of goal and it was not a mistake that so many clubs were after him. He's on loan, if he does well they may want to keep him or he goes somewhere else.
I'm glad I was in a position to make sure I helped him. He has been a great discovery.
Brown Ideye?
He has played a couple of games for the Eagles even though he hasn't done well when he has played. He's doing well at his club, the only problem is that we have other players in his position and he's behind in the pecking. From what he has done, he deserves to come and prove himself.
The only thing is that the pressure will be on him because Nigerians are yearning for him to play. If he comes and he does not do well, it will be a problem for him to bounce back. There's too much pressure on him and so he has to be very smart when he's coming.
Lukman Haruna?  You have not considered him?
I have other players who are doing better than he's doing.
Are you not punishing him for the mistake that cost your team a place in the quarterfinal of the 2009 FIFA U20 World Cup in Egypt?
If it's a punishment, he brought it upon himself because if you have players who don't listen to instructions, whatever happens you are the one who takes the blame, not the player. What happened in Egypt was that one person refused to listen to instructions. We all have to be responsible for our actions.
It's almost a similar thing with Sani Kaita.
Kaita has been forgiven. The thing is that we have younger players in his position who are doing well. I don't even know where he is playing, may be in Belgium, he has been criss-crossing Europe, he has to be stable.
Despite your popularity, you also have a few critics and some of these critics happen to be your former teammates in the Super Eagles like Daniel Amokachi and Emeka Ezeugo. Are you shocked?
I'm very shocked. Whatever grievances they may have against me, I don't want to worry myself about because I'm only trying to do a very good job.
These guys don't even know where I came from and where I am today.
I have a saying, don't hate the player, hate the game.
If you think I have wronged you, be man enough to confront me and let's talk about it.
Otherwise, I wish them the best of luck.
You don't think there is a tinge of jealousy to this?
If they are jealous, that's their problem. They don't have any reason to be jealous of me. Daniel had his chance as coach and we all saw what happened. I will just face my job, do my best and make sure Nigerians are happy with me.
Where do you want to be in three years?
I want to play at the World Cup. I dream big dreams, not small dreams because I want to realise big dreams.
We are building a team, picking players on merit at every given time.
Some are asking why I keep inviting my players. But these are the players who are dedicated and on a good day they will die on the pitch for me.
What is your message to Nigerians?
The love for me is until I lose, so I'm praying I don't lose. But really the support has been overwhelming and I wish to thank all Nigerians for the opportunity. I thank them for the confidence and the goodwill they have shown to the team. They believe I can do the magic even though I'm not a magician.
I will continue to do my best to make sure that they take the Super Eagles seriously again.