I didn't seek acting, it found me — Funke Akindele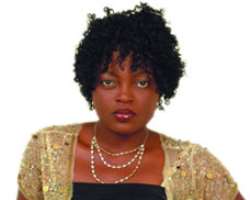 Funke Akindele is not just a popular face in the Nigerian movie industry, but definitely, one of its most rounded actresses. She is no longer...
the teenager who appeared innocently in the soap, 'I Need To Know', a television drama designed to teach teenagers on matters pertaining to sex. The Law graduate of the University of Lagos has come to be one of the best things happening to the entertainment world. With a bag load of multiple awards coming her way, she is no doubt one of Nollywood's greats today. But while her fans commend her endlessly on her impressive movies, the young actress believes her best is yet to come. She told YEMISI ADENIRAN in this exclusive chat the story of her success, the challenges of acting and her plans for the future.
She started as a teenager a few years ago when she played the lead role over other youths in the I need to know soap. And since then, Funke Akindele has decided to throw her weight into the make- believe world.
Although, she has over 10 films to her credit as a producer and since berthing into the industry over a decade ago, Funke insists that she has not yet started. As far as this young producer is concerned, "you are only as good as your last movie." That explains why her productions seems to get better and more impressive every passing day. Her films, by all standards, are not just another release, they make impacts.
Explaining why this is so, the young graduate of Law says "it is all about focus. When an actor plans to release a movie, he or she must target some set of people he is about to address, other wise, his effort will end up as a waste".
Generally, her films are directed to the youths, especially the female youth and their peculiar vices in the society. "The youths are the growing human species and are bound to be distracted by one thing or the other in the society. I try to bring this into the open to caution them about the hurdles of life and the repercussions of their temptations," says Akindele.
If you think Akindele is attracted to the movie industry for the sake of the financial gains, you just may be wrong. In 1998, when she first appeared on the showbiz scene, she actually never had any idea of what she was venturing into. In fact, it was an ignorant teenager who merely acted on her first impulse and curiousity over a publicly placed advert. "At the initial stage, I never saw the need for money when coming in, I just saw it as an avenue to exercise and put my talent to test. It was later that money started coming in, that I began to see financial prospects in this," she declares.
Her childhood dream was to become a lawyer. "I have always liked to talk and be defensive. I am very argumentative and to the best of my ability, diplomatic. So, I decided to go for the Law profession in spite of my obsession with acting and all that it entails," she says. However, coping with her acting work and studying Law was no tea party. "I combined a lot of things — script writing, role interpretations, production and then attending lectures at the university. It was a hell of a time but my opinion about life is in doing whatever one has chosen to do, very well."
The whole exercise was tasking, but paid off at the very end. According to her, it was actually fate and her appointment with success that positioned her in such a tight corner. All through the time she was in school, she learnt more about life and got further clues to film ideas. This was what engineered her most recent film "Jenifa"
"It was while I was in school that I got the idea for Jenifa. I took an inward look into the life style of many lady undergraduates and wrote a movie out of it." ...and did it make any impact? Of course it did and it is still doing great. Even kids who are yet to gain admission into the university or other higher institutions now have a clue of the university life and how to caution themselves. All the same, her plays are not tailored towards the youth alone.
"Most parents get deceived by their wards most times. There are lots of students in school who are not admitted but are in school operating as students. They waste their precious time, money and their parents' resources," Akindele points out.
On the part of these higher institutions, the talented actress says that the movie is directed to open their eyes to the many students who have turned themselves into tin gods on campuses. This she did with a view to bringing sanity into these campuses.
If no other plus stands her head and shoulders above her peers, the fact that she writes scripts and hands them out to some of her colleagues certainly do.
As at the last count, Akindele has a dozen A-grade movie scripts ready for shooting and discloses that she has done only a few of them. Little wonder she is much celebrated even by her colleagues.
While she remains the toast of many movie marketers, due to her peculiar gift of writing good scripts and her splendid interpretation of movie roles, the University of Lagos Law graduate believes that she is still just learning. She believes in inviting professionals for thorough criticism and evaluation of her scripts before shooting them or going to any location.
"No one is an island. I believe in seeking other people's views before shooting any movie."
With popularity however, comes its challenges. To her, fame has two sides, the sweet and the bitter. With a known face, she is well recognised.
"I can no longer eat or play anywhere I like. I have to watch how I comport and behave in the public, otherwise you guys will reward it with bad press. I have to laugh when I am really annoyed. I mean, I have to put up a smiling face when I feel pain inside. It is not easy coping with all these," she discloses.
The actress says she has nothing but a steady official relationship with her producers, Olasco films. "I actually produce my films myself but most times, they are financed by Olasco films. We have no problems in our relationships" she said.
In response to the question on when she intends to practise the legal profession, Akindele says, "there is no time for that now, but by God's grace, I wish to have my own Law chamber in the nearest future."
But why no plans for that now? The dark complexioned rave of the moment says: "I have noticed and discovered my niche for acting and usually when I feel good at doing something, I give all that I have into it. I cannot afford to abandon my interest or betray the trust of my fans for anything."
Considering the deterrent factors to the growth of the industry, the young actress observed the need for it to get to the international level. This not withstanding, the industry she believes is not at a standstill. ''Nollywood has really done so well that everyone is now interested in it . For now, whether we believe it or not, we are the third largest film industry in the world. But, be that as it may, growth is still desirable,'' she says. Aside rating high, she notes that the industry has improved the image of Nigeria abroad, '' while the world is tagging Nigeria as a 419 nation, it is embracing her through our films.''
However, she hopes for more growth in the industry as has been witnessed in such sectors as banking and insurance.
She debunks the general belief that tribal differences is a factor setting the industry back. For her, the fact that one is an Ibo, Yoruba or Hausa should not be a barrier in achieving one's dream. ''I am de-tribalised and that is why I don't see why ethnicity should be a hindrance to an artiste's success. A well-focused person shouldn't allow anything to hold her down," she declares.
On why she has remained most constant in the Yoruba genre, the screen goddess says:'' Everyone who knows Funke Akindele will always trace her very beginning to 'I need to know' and some other English movies. But you see, Yoruba is my language and I feel more comfortable with it. However, I am giving the two genres 50 percent attention each.''
Jenifa, my most challenging movie
Of all the films Akindele has produced, Akindele regards her newest and hottest in the market, Jenifa, as the most challenging. Perhaps, this is because its setting had its founding roots in the deep Oyo dialect, which in a way is contrasting to her own Ijebu. 'I actually had a tough time mastering the Oyo dialect in its very raw form. Much as I tried to make it sound the exact way, there were still flaws although they were not very obvious.' recalls Akindele.
The efforts paid off, after all. Today, Jenifa remains everybody's favourite and has also coined a new name for her. She is currently renamed 'Sulia'. Other challenges came in the area of her educational career. "I had to juggle my Law career with all the acting responsibilities and it wasn't funny at all,'' she recalls.
Looking back today to assess her 10-year sojourn in the make- believe world, the sultry actress is simply humbled. She attributes her success to God who enhanced her appointment with destiny and of course the passion she has for the job. Her kind of luck is simply very rare. While her mates will remain in sheer obscurity for many years before getting major roles for a launch-out, hers came on a near platter of gold. And while many of her seniors in the industry are yet to produce even one movie after many years, Akindele ranks amongst the few young producer-actresses today in the industry.
''Since 1998 when I played the lead role in I Need To Know, everything seemed to have worked for me in quick successions. I merely went for for the soap's auditioning after seeing the advert and got the offer. All other movies I have produced also received the highest applause", she notes, counting her blessing.
Giving her words of encouragement to the up-coming artistes, she advised that they have determination and discover themselves to do the work right. She also implores them to care less about the negative things that come with doing the job. "For me, acting found me, I didn't find it. So, let people see the talent in you,'' she advises.
To her fans, she promises an unending dedication in order to remain their delight. What if she is offered a huge amount to act nude? She shot back her reply: ''I don't see any reason why I should reveal the intimate parts of my body in a movie for any amount. If God has helped me this far from less-revealing movies, then, I have no ambition to become wilder.''