My husband is a wonderful man — Emma Ike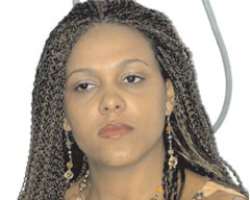 Mrs Emma Ike led members of her family to our corporate headquarters along the Oshodi Expressway to represent her husband who was one of the top contestants at the final showdown of who emerges the sexiest male actor in Nollywood.
Although her husband lost the title to the two other finalists, Jim Iyke and Desmond Elliot , she was happy that Nigerians recognised the man in life well enough to vote him as one the sexiest men in Nollywood. She spoke to Bridget Amaraegbu moments after winners emerged at the event.
Read On
Could you tell us what you are doing in Vanguard premises?
Yes. My husband called me on phone to come and represent him in the event of today which is the sexiest man in Nollywood organised by Vanguard Media. He couldn't come himself because he's in Delta State right now, that's exactly why I'm here.
What has it been like living with a star actor like Emeka Ike as a wife?
I really don't see it as a big deal. All I know for sure is that he is a wonderful husband and father like any responsible man out there. The star out there is totally different from the man at home and it's been wonderful living with him.
How do you feel when you go out together and ladies come to meet him?
I'm used to it,so I don't feel bad. Sometimes when they come around him, they just greet him and say hi.
Instead of feeling bad, I'm happy that his fans have smiles on their faces just because of my husband.
Are you saying that there's been no embarrassing moment while walking along with him?
Of course there's been such moments but I welcome them too because I know that it ends there.
What about watching him play romantic roles in movies where he does all the kissing and smooching?
Well I know that all those romances ends there on set so they don't bother me.
Can you tell us what your husband does outside the movie world?
He has a studio and we also have a school. Our school is Saint Nicholas Secondary School located in Magodo. The school is for both male and female.
Does the knowledge that this school is owned by a star impact on the life style of your students?
First I believe they are in the school because we offer quality education. The students love him and whenever he has the opportunity to see them, he does so and they are happy.
Attending our school makes some of the students want to emulate the life of a star because they believe they are stars already.
Lets go back to your home, how many kids do you have?
We have three kids, all boys. No baby girl yet despite all my cries for a female child. I need a girl child who will be my look alike.
What are the challenges of living with a star husband?
Distance is number one. Most times he is on location doing one movie or the other. While other women will have their husbands by their side whenever they want him, I'll have to call mine on phone to seek his permission or suggestion to certain things.
This situation has also made me a stronger person because I gradually become the father and mother of the house most times. I'll not also fail to say that I knew all this even before we got married so I was prepared for the task ahead.
Can you tell us one secret that has kept your marriage strong?
Laughing, she said I think it is distance. He is not always around so we hardly see each other to start quarrelling, arguing or fighting.
On a more serious note, marriage is all about understanding, trust and then love. Some people make the mistake of thinking that marriage is all about love.
I personally think that assumption is wrong. This is because sometimes even the love can fail you and at this time what you need to resuscitate your home is understanding, then love can come in. Our union has both love and understanding, that is why we are leaving tight.
Between you two, who is more romantic?
I think Emeka is more romantic because I'm not a very romantic person and I know it.
Is this pretty angel a Nigerian?
(Laughing) I'm of a mixed blood. My father is a German and my mum is from Delta State. But I was born and bread here in Nigeria so I'm a proud Nigerian.
Finally, how do you feel that your husband is not the winner?
For me they are all winners. I don't even see it as a competition or contest but a quest and I appreciate the spirit behind this whole exercise.
What are you saying to Vanguard?
A very big thank you to Vanguard Media especially Saturday Vanguard for coming up with this kind of concept. I hope that soon other media houses will follow suit.