Tony Elumelu inspires me - Professor Porter.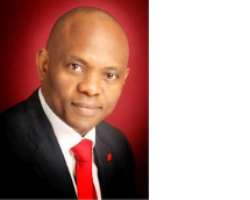 Renowned Professor of Harvard Business School, Professor Michael
Eugene Porter has described Mr. Tony Elumelu, immediate past Managing
Director of the United Bank for Africa (UBA) Plc and Chairman Heirs
Holdings, as being a source of inspiration, stating that he will
become more involved with Africa. Porter said the antecedents,
pan-Africa vision and agenda of the immediate past CEO of UBA have
helped to shape his views and perception that the continent can be
transformed by a new generation of committed leaders epitomized by
Elumelu.
Professor Porter, who is generally regarded as the father of modern
business strategy and the world's most influential thinker on
management and competitiveness, disclosed this in Lagos on Saturday
August 6, 2011, at the 10th edition of Tony Elumelu Lectures Series
(TELS) organized by UBA. Delivering a lecture titled 'Creating and
Sustaining Strategic Competitive Advantage' before a capacity crowd at
the UBA House, Porter emphasized the need for wealth creation, stating
that businesses can truly  grow when product and services are offered
to the target markets or customers uniquely and at a premium.
He advised businesses and their managers to ensure that their
strategies align with customer needs. According to him most businesses
aspire to be the best but there is nothing like the best company
rather what is obtainable are good and profitable companies with
unique products and services tailored to meet consumer needs.
'Strategy is about choosing what you want to do and sticking to what
you choose to do.  There must be trade offs. You can't be everything
to everybody', said Professor Porter.
Speaking at the occasion, the Group Managing Director of UBA Mr.
Phillips Oduoza commended Professor Porter for his work in the area of
business strategy. He said the ideas espoused at the occasion validate
some of the strategies adopted by the UBA Group. 'We would work harder
in actualizing these strategies even as we reorganize to implement the
holding company structure' maintained Oduoza.
In his remark during the lecture, Mr. Elumelu, urged business leaders
to internalize the concept of economic shared values by building into
their strategies, the elements of long term focus, superior value and
sustainability.  He advised the UBA Group to stay the course on its
Africa expansion strategy.
TELS is a quarterly Leadership Development Forum, conceived to
engender and produce well rounded executives from within the UBA Group
who will not only impact the financial industry space where they work,
but influence the larger society positively.
It is a forum where Senior Executives of the institution from across
Africa and the rest of the World gain knowledge from the wealth of
experience of famous and distinguished African business leaders with a
track record of success in their chosen endeavors. The medium provides
a melting point where valuable insights and acumen are shared by these
carefully selected speakers.