AFTERMATH OF HILDA DOKUBO'S CRASHED MARRIAGE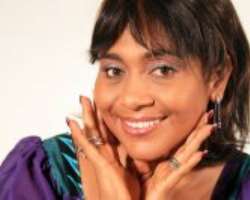 Popular screen diva and former Special Adviser on Youth Matters to ex-Governor Peter Odili,Hilda Dokubo has now taken solace in the vineyard and things of the lord.
And those who are conversant with the happenings around her say that is as a result of her marriage to Nollywood frontline player,Akaroese Mrakpor which hit the rocks not too long ago.
She now worships at Salvation Ministries a.k.a Glorious Chapel on Birabi Street, GRA Phase 1, Port Harcourt. Aside such commitments, we heard that on part-time, she visits sister churches to preach, and she employs her white jeep in the process of evangelizing around the state especially in the neighbourhood of Rumuolumune,a Port Harcourt suburd where she resides.